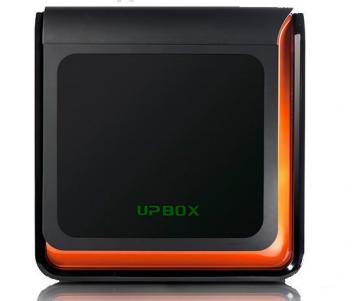 Easy to use plug 'n' play machine from the makers of the acclaimed UP Plus 2. The Box features steel chassis, automated calibration, fully enclosed build chamber to cut down on noise, while also keeping fumes from reaching outside the chamber via a HEPA filter.
100% recommended
Owner Reviews
If you like a printer professional Up Box is your printer because is too easy for use, with big quality of printers. And is ideal for people who likes to print without knowledge.
The UP Box is currently, our favorite 3D printer in the shop. With a large build volume, removable build plate, heated platform, enclosed build chamber and easy to use software that "just works", this printer is a true performer in every regard. The printer comes with it's own proprietary slicing software that results in amazing quality parts. With the enclosed build chamber and heated platform, the UP Box provides some of the absolute best ABS prints we've seen from desktop 3D printers. The slicing software may leave a bit to be desired for expert users, such as customizable supports and 3D preview, but the stellar results are tough to argue against. With only a single extruder option, there isn't an ability to print with soluble support material, but if this was integrated, there would be nearly no other competition in sight when it comes to print performance and results.
Good Printer nur Not fantastic
Great printer with good quality prints. Software could be better but the only real concern is the ridiculously high priced materials and consumables such as the nozzles.
good printer, easy to use, easy to learn
wow what a printer, quiet and clean and very precise, I really enjoy using it
Great machine if ABS is what you need for material.
The UP Box is a great all-round 3D printer with very high quality prints including of ABS with a heated bed and enclosure, a generous build volume of 8" x 10" x 8", removable build plate, easy to use and very reliable. The initial release of the UP Box was limited to USB connectivity, but with the available CPU upgrade the UP Box can be enabled with WiFi connectivity as well as Blackout Recovery to resume prints after a power loss.
Probably one of the most easy to use printers. No tinkering with settings if you use ABS. Direct drive extruder is both a blessing and a curse - not easy to print materials that go soft in elevated temperatures but also no problems that are inherent in bowden extruders.