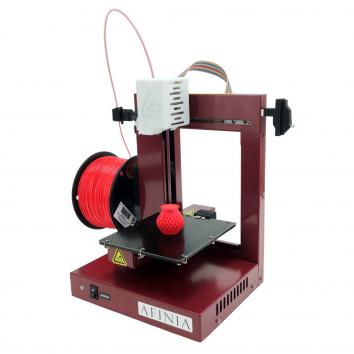 A small, reasonably priced 3D printer that offers an out-of-the-box printing solution. It can print ABS and features an automatically adjustable heated build platform. The build platform has a volume of 14 x 14 x 13.5 cm and it can print at a layer height of 150 microns. It is known as the UP Plus 2 outside of the US.
Available from these sellers
86% recommended
Owner Reviews
This was my first printer. I had no real knowledge of what I was doing, although I had excellent CAD skills. I had to download a part from Thingiverse to start; it would have been nice to have some suggested files for initial/test prints. It has lots of features for an inexpensive printer, including good software that allows direct importation of STL files. It is turn-key out of the box; superb printer for a beginner. The negatives are small build volume, limited filament materials, and not being able to readily change extruder/platform temperatures, extrusion rates, etc.
Plug and play. Was printing within 30 minutes of opening the box. Great customer support - you get to talk to a person in a few minutes!
True plug & play, best overhang support generation in the market. If you don't want to fiddle with settings and tuning this is the printer for you. You do need to apply a couple hacks to allow for better generic PLA printing.
Inexpensive, extremely easy to use.