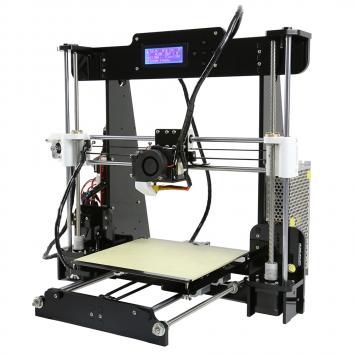 Starting from $170, the Anet 3D - A8 is a very low cost Kit 3D printer that offers a decent build volume of 22 x 22 x 24cm as well as a heated build-plate. It can print in a variety of materials including PLA, ABS, TPU, Nylon and more, with a maxium resolution of 100 microns.
Available from these sellers
98% recommended
Owner Reviews
good for the price, the trantula design is better but need better quality parts, When I received my printer 3 bearings were damaged. Need better quality parts.
It is a good printer if you are a good tinkerer
It's a good printer, easy to run & upgrade
For the current price of 150€ it's a very cheap buy if you want to learn 3d printing from the root. Build your printer, flash own firmware and print upgrades. If that (and the occasional productive printing) is what you're into, the ANET A8 is a total recommendation for you.
It is a great value to start out with 3D printing as the price point is very low. With such a large community, issue can be solved rather easily. The number of upgrades available is also fantastic and print quality and reliability can be vastly improved.
I couldn't be happier. I went in know it would be a DIY build but it was easy with a bit of technical knowhow. It has also been fun making modest upgrades to it, which are plentiful.
I recommend to upgrade to am8
The ANET A8 is a great machine if someone search a cheap but good product. I would recommend it for intermediate users with a little bit knowledge of how to construct things, but not for bloody beginner's The printer is shipped totally disassemble and it takes around 4 hours to one day for assembly.
For my first printer it worked out pretty good. I'm not the average user though and have a good understanding of mechanical, electronics and software. Never touched a printer software like repitier or octoprint but with a little reading things became clear. Don't get this printer thinking it will be an easy ride to the finish. This is truely a machine that has a good base to learn the basics and get a good understanding of the technology. I feel confident that I could build one from scratch such as a hypercube.
A perfect learning platform, if you get a good one at a discount. Plan to upgrade, plan to write off the cost, and you should be happy. Best for existing technical people though, there is often a bit of fiddling required.
It good price/performance but needed modification like this - >
It's got it where it counts, but it misses the mark in a few places. A great way to learn the technology behind 3D printing, but a terrible solution for someone that just wants a maintenance-free worry-free printing experience.
A real cheap machine that make great prints if assembled carefully and with a few upgrades.
It's a really good printer, but it needs you to take some time to assemble it properly, and it needs to have a few upgrade parts printed. As a low cost kit, it does its job well.
This was my 1st 3d printer and I didn't know anything about 3d printing other then watching videos about it. This is a kit and building it I learned so much about the printer
The A8 is very cheap, and prints as expected. You can easily improveme the printer with a few parts and modifications. Many of the improvements are found on thingiverse or spread by the community in forums.
For what you pay and what you get it is a good deal. There is a very active community that offers tons of improvements and guidance to help turn this into a very decent printer. If you are looking to learn 3D printing well and are willing to spend the time troubleshooting and upgrading, this is a good printer to get.
Great value for money. Will need some tweaks for top performance but runs fine out of the box. Recommended for beginners with technical experience.
It is very good in in less price. Good for experimentations also. Sometimes prints are not as good but it depends on the product we are printing and slicer we are using to generate G-codes. But overall it is good and if you have some knowledge of engineering and Arduino than you can do many developer stuff with it.
Cheap, with some tinkering a nice workhorse.
With a few modifications, like adding OctoPrint, it becomes really good.
This is a DIY printer, the kit is rather well done, it is quick to build. The setting is a bit complicated for a novice but we learn very quickly about this kind of machine.
Amazing printer for the price. Very open to printable upgrades to save money.
Exceeded my expectations in terms of print quality, precision, and cost. I'm constantly receiving complements on prints. However, for a beginner, tuning, stabilizing, and maintaining could be daunting. Perfect for those who like to tinker, modify, and improve their printer.
Great printer that can be upgraded to perform even better. So many people use this type of machine that you will be able to find support everywhere. Great printer for the money. This Kit will help you learn your computer from the bottom up.
cheap printer and print good quality print
I had been doing 3D design at work for sometime and was ready to do some printing on my own. I chose the Anet A8 printer mainly for the DIY aspect. I wanted to build one so I could better understand the mechanics and software requirements. Spending time on the community forums gave me a greater understanding of the effort and dedication it would take to make my A8 everything I wanted. This printer is labor intensive, needs many upgrades and requires almost constant attention if high quality and precision are what you need. I wanted a challenge and a printer that would help me grow, the A8 delivered above and beyond.