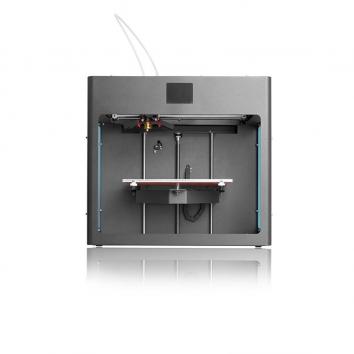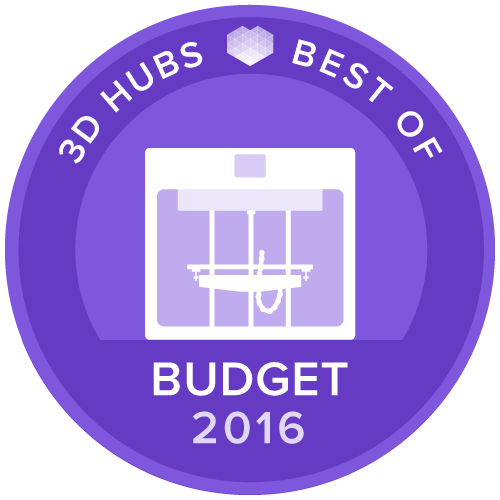 The CraftBot is a low-cost FDM printer, with a relatively large 25 x 20 x 20 cm build volume. It prints with PLA, ABS and HIPS materials with a maximum resolution of 100 microns. The printer's design is rather clean with a cut steel frame, see-through side panels and a user interface sporting a 2.8 inch color touchscreen. The printer ships with the proprietary CraftWare slicer software, providing detailed layer-by-layer visualization.
Available from these sellers
96% recommended
Owner Reviews
Its my 3th 3D printer and its the best one that i have used. Good print quality and a great print volume.
The CraftBot is very reliable, well designed and not too expensive. The build volume is huge! 200x250x200mm. Support is great too! CraftUnique is constantly developing their slicer (CraftWare) and firmware. It now has tweaks 'on the fly' and can even resume prints after power break. In the past the cable system was the weakest spot, but now it's changed to a reliable flat cable system. The touch screen on the CraftBot is intuitive and easy to use. The CraftBot has no auto-level system for the bed, but after a week of use, you don't miss that at all. It's a great 3D printer for beginners and options for the advanced user as well.
price/quality verry good printer. only installing new software on printer is not easy
A cheap printer that is reliable with good support.
I've got the original model from the Kickstarter campaign and its my first personal 3D printer. It had a rocky start but is a champ now and can handle pretty much anything.
Quality built printer at an affordable cost. Ease of use while maintaining great prints.
My printer is a CraftBot Plus. I am using a borosilicate glass bed instead of the kapton tape that comes with the machine. This machine is customisable and there are a few excellent mods out there. The printer is fast and consistent, and printing is very easy once you know what settings works for you. The slicer, CraftWare, is constantly being updated. The construction is rock solid, and design will complement any environment. Maintenance is very easy because everything is accessible (the printer comes with a tool kit). I had a wire break in the energy chain, but that was covered under warranty with absolutely no hassles. Everything was shipped by express tracked courier. Overall this is my main printer for Hub printing because I know I can depend on it day and night. It is fast and I can print a lot of things without having to use heat beds (the combination saves me a lot on costs). I can experiment with the slicer/settings to adjust speed and finish, and if things go wrong, I just pop back my working parameters and it is back to normal. I got the CraftBot Plus while it was still on promotion, but even with the latest model and price (WiFi connectivity), you are still getting more value compared to the big-name competitors.
The craftbot is a good machine that has a nice big printing platform. The noise is a bit on the louder side then what I would like with my living space. The craftbot will print from day 1, with very little assembly required. The design of it is very strong and stable. I had to replace the heating element for the nozzle once. The process isn't too difficult, as there are instructions on how to do this; though overall it's not a quick process. The software works well and enables me to control and monitor the craftbot from the connected PC.
It's an easy to use printer. Doesn't take much maintenance en good print quality!
One of the best printers for PLA and ABS in my opnion
A rock solid printer for a low price. It has a large print volume and the LCD touch screen is a no-brainer to use. CraftUnique made a great slicer, CraftWare, too. But the CraftBot takes gcode of other slicers as well! Service and handeling of warranty is handled well.
I was one of the Kickstarter backers for CraftBot and it was my first personal 3D printer. It has its quirks but overall it's a great plug-and-play printer with good print quality for the price. My CraftBot is my go-to printer for experimental materials and slicing profiles.