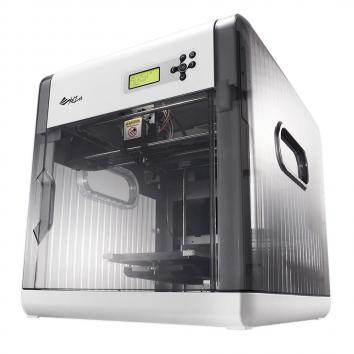 The Da Vinci 1.0 is a low-budget 3D printer of Taiwanese origin. It ships with a closed printing area to allow for a more stable printing temperature. ABS and PLA are amongst the printable materials supported by its filament cartridge system.
Available from these sellers
100% recommended
Owner Reviews
I really love it for its cost and quality. I have done some simple maintenance and upgrades to it, and after 2.5 years its doing very well. For its price you can't really complain its print quality. You will always get the layer lines in FDM printers, its not like your prints will be 10 times better if you pay for a printer which is 10 times more expensive. I've done firmware flash and using Repetier software, and with the help of many utube videos I believe I have tweeted my printer to be pretty good.
Great Value, Easy To Mod, Cheap To Run, Ok Quality, Nice Looking, Bad Customer Support. Great Printer for people on a budget who are willing to work on its flaws and mod it
The printer is okay for beginners but with a few tweaks and modifications it can make it to the quality level or above makerbots and other name brand printers.
A great machine once you've flashed its firmware and upgraded its hot end with an e3D.
Works excellent when you flash repetier host onto the printers driver board but if you use the default software it is terrible and you have to use there filament
Overall great little and inexpensive printer. Software is lacking, but their is a decent community devoted to flashing a new firmware and using other slicers than what it comes with. A little time calibrating and you have decent printer to get you going!
Plug and play, keeps chugging through when others fail.
The Davinci 1.0a reflashed with Repetier Open Source Firwmare becomes a really excellent printer; print quality will greatly improve due to better gcode interpretter and ability to use better slicers.
A great Printer for beginners
The Da Vinci 1.0A is a very good printer. This user friendly printer was excellent for a beginner like me. The only downside to it, is that you have to flash the board to put repetier software on it. There was plenty of tutorials on youtube to help me with that, so it was very easy. I do plan to build my own or upgrade someday, it's very fun and good to learn from. Gives a good insight on what is good/bad on a printer.
Printer ok out of the box. A few mods, improvements and new software unleashes the printer.
I would only recommend this printer to someone who likes to tinker with things. This can be a great printer when equipped with repetier firmware and an e3d v6 hot end. Would only buy another if I could get it for $200 new or used.
Great machine, easy to use and reliable.
I love it! Just make sure you upgrade the firmware!
I use it for commercial use. I run both of mine 10 to 12 hours a day almost 7 days a week. I have nothing but good things to say and 2 thumbs up.
Very good printer for a beginner although maybe overpriced from the point of view of someone with more knowledge