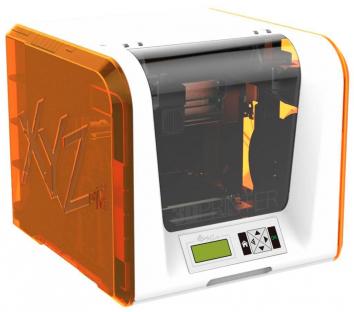 The Da Vinci 1.0 Junior is a low-buget 3D printer with a build volume of 15 x 15 x 15 cm. For it's $399 price point the Junior boasts come impressive features such as auto-leveling, quick release extruder and automatic filament loading which makes the D Vinci Junior a great Plug'N'Play printer.
Available from these sellers
100% recommended
Owner Reviews
For begginers only, good prize, easy to use but bad client support here, in EU.
Great printer, speed is pretty good, the DRM on the plastic and plastic availability is the worst. You have to use XYZ's $30 plastic and the build size is small but other than that, it is great for beginners and great for the price.
It is an easy to use no nonsense cheap printer. Therefore it does what it should, but be realistic in what you expect. It will never come close to anything professional.
It is a great printer that helps save huge a amount of time when printing and doesn't even need to be teathered to a computet to work meaning laptops are great with it and the software is very lightweight and i can even run it on my notebook.
Great startup printer. Good quality prints for the price. Won't break the bank if you are looking to get into 3D printing, but may want a way out.
Great machine!!! I only wish it had a bigger build platform with a heated bed. Aside from that it really is a great machine.
Love it.I will buy another one.Hate of course the cartridge with the chip in.
It's a good value for the money based on it's robust design and minimal maintenance requirements. It doesn't need bed leveling and has been printing for years without any sort of calibration.