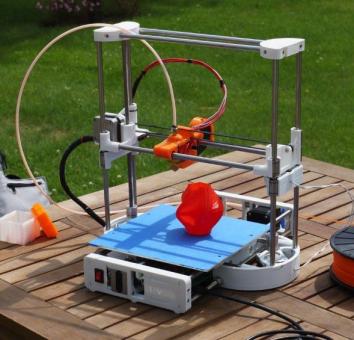 The Discovery 200 by the French company Dagoma is a low-cost FDM printer. It has a 20 x 20 x 20 cm build volume and can print with up to 50 microns resolution.
100% recommended
Owner Reviews
Well, from the old school mechanic point of view, it can not work! But it's a new world and it makes the job, using material flexibility and electronics to give a really good precision, even from the "metal remover" world. So it's not the best, the fastest, but it's good money placment to discover 3D printing. You just need to had a thermal plate to extend possibilities.
Do what you need for a small cost
Discovery200 is a great low cost printer. The problem is materials are really low quality, I always ask myself how can I do so good prints with some pieces of steel and PLA. I can recommend it to students, beginners, and other people that doesn't have lot of money, but is you can, go to a real "hard-builded" machine, like the flashforge creator.
Good printer for this cost, open source and easy to use. Upgradable and good quality print. Only problem is low value of hardware.
It's a very good printer. I tried to print the same STL file with one Zortrax m200 and one discovery 200 and the discovery 200 one was really better and beautifuler even if the zortrax cost 2000$ and the Discovery 200 only 300$. Amazing
it is a exellent printer, very affordable, quick and efficient technical support and easy handling. I recommend it to beginners and intermediate which is little money to invest.
Good little french printer, ideal for beginners but it doesn't come with a lot of option
Cheap product butt hard to use.