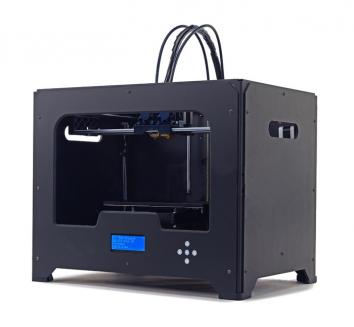 The Flashforge Creator is a reasonably priced Chinese 3D printer which bears close resemblance to the Makerbot Replicator 2. It features a dual extruder and supports dual color/material printing. Both ABS and PLA can be printed at a resolution of 100 microns with a maximum size of 22.5 x 14.5 x 15 cm.
Available from these sellers
100% recommended
Owner Reviews
Good value and quality, but requires a lot of patience.
There are version of Flashforges out there. The new ones are better. Metal arms and a nozle fan make the printer better. The heat bed wiring has been improved. Just use makerware to start with. The new software makes it better also. Get a glass bed plate and use hairspray. Eliminates most issues. Level the bed with a index card by feel. It is easy to repair and upgrade.
great little machine - needs a few tweaks and minor modification, but once dialled in will give you great prints time after time after time.
Great little printer that just works even though it requires a bit of care.
Great value for the cost.
It's a great printer for the money, dual extruder, heated bed, but spend the money and upgrade to Simplify3D