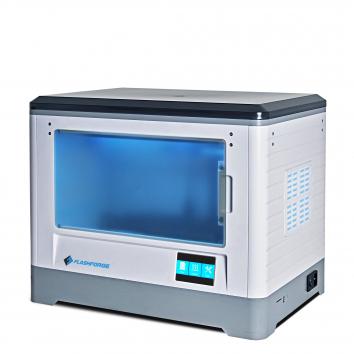 The Flashforge Dreamer is a fully enclosed plug 'n' play 3D printer by the Chinese manufacturer Flashforge. It features a Wi-Fi connection to upload files to the machine and has a dual extruder mechanism. Its build volume is 23 x 15 x 14 cm and it can print at a maximum resolution of 100 microns.
Available from these sellers
100% recommended
Owner Reviews
Très bonne machine, juste un peux bruyante. Juste un défaut facilement corrigeable de l'extrudeur avec le filament flexible qui a tendance a mal se placer lorsque l'ont veux changer de filament
I love my printer mainly for the possibility to upgrade it. With two extruders and heated bed, this printer offers many possibility in terms of usabile filaments/materials (open) but adding a good software like Simplify3D, buildtak for adhesion and different nozzles to increase quality or speed print, is possible to achieve excellent results. The extruders are simple to remove (if necessary), thanks to all videotutorials on-line available online. Spare parts are easy to find in the market.
Awesome printer for starters and intermediates alike, easy to use software, simple to calibrate and setup. With a few additions (Glass Print bed, External Spool Storage) it is the perfect printer for home or office - I should know, I have one in each location!
A great printer that just works out of the box!
The FlashForge Dreamer has been an excellent update from FlashForge. While the Dreamer totes the same build volume and dual extruder setup as the Creator Pro, the Dreamer has added a color touch screen interface to operate the printer as well as wifi connectivity that you can connect via adhoc. The Dreamer also has a few other subtle differences that provides a better performance, reliability and user experience such as the Dreamer's updated electronics, cable routing enclosure exhaust fans.
It's a really great printer with a lot of flexibility and extra features. It's good for beginners and intermediates, it prints standard prints. The printer is entirely enclosed, which is great for ABS prints. A downside is the inside of the printer, which supports only a certain amount of filament, and is very inconvenient, but you can create a different system. The customer support is very fast and helpful, one of the best I've ever used. The software is pretty great as well. Overall great buy, I recommend
This is my ABS machine. It print ABS better then any other machine I have.
A real workhorse that just prints. The second extruder is best understood as a backup though. This is because it is cumbersome make both extruders level. There are a lot of third party upgrades you can make, from geometry integrity via aluminium replacement parts to easy level dual extruders. That tells me that this printer is loved and taken care of by it´s owners.
For me the thermal expansion of the plastic structural box is the main annoyance. As the ambient temperature changes from print to print, the standoff distance of the nozzle needs to be readjusted.
I absolutely love it. It`s a workhorse and I made the best of my work with it.
Great Product - can´t say more!
Awesome printer for the price. Very reliable and pumps out good, high quality parts with little to no effort each and every time.
The printer is a good one but its software keeps it back.
This printer is great. It is easy to maintain. Temperatures, print speeds, fan controls are all adjustable, which is a great feature. It prints and it prints well!
The Dreamer is a solid workhorse. I recommend using it with Simplify3D software. The FlashForge software isn't all bad, but it is limited.
Very reliable and easy to use.
I really love my FlashForge Dreamer. The ability to print models is amazing technology. I choose to use Simplify 3D as the slicer. There is definitely a need to experiment with different print settings, as one set of settings does not cover all materials and types of models. This means that occasional prints will fail, but that is par for the course for any FDM printer. The Dreamer is capable of giving amazing results, and suits technically-minded people who are willing to tinker with settings to get the best results. High on my wish list are a larger build volume, self-leveling bed, and a way to consistently remove models from the print bed easily (mine tend to stick too well). Overall, very happy with the Dreamer and its capabilities and is a printer I would recommend.
Reliable and easy to use.
My experience is Fantastic !! Very easy pre processing slicer and good build quality.
Great value to it's cost, ease of use, least maintenance.
some problem in sticking but it works great
Good valse for the money, decent 3D printer with dual extrution heads
Well made but the plastic box means that the nozzle height needs frequent adjustment due to temperature changes.
While very similar to the FlashForge Creator Pro, the Dreamer differs by adding a color touch screen interface, Ad-hoc WiFi (which no one uses), and gives a less optimal filament path and introduces filament storage inside of the chamber therefore limiting the spool sizes that can be used by default. One of the first prints on this printer should be a more universal fitting, external spool holder.
An upgrade over the Creator Pro II which is already one of the best budget 3D Printers. Dreamer is an upgrade in terms of features however they are both great quality printers and the most bang for the buck you can get.
Easy to use printer for someone looking to 3D print for fun smaller projects. Great for the price. Takes a little bit of initial set up and fiddling to get it going correctly, but once it's all set up, it's smooth sailing!