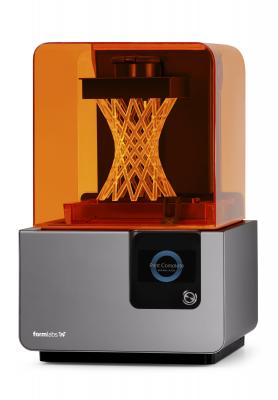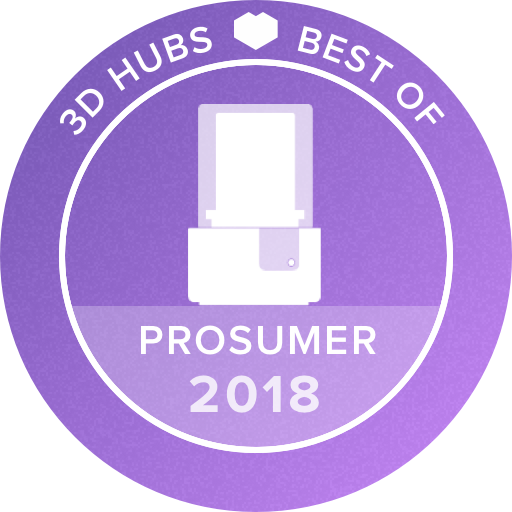 Formlabs introduced the first desktop resin 3D printer in 2012 with the launch of the original Form 1 on Kickstarter, which became an instant success. The Form 2 is the company's 3rd generation printer boasting a whole range of new features including a new peeling mechanism, heated tank, touchscreen display, wireless controls and an automated resin system. The resulting prints that come off of the Form 2 have consistently been among the highest quality objects to come off of any desktop 3D printer.
Available from these sellers
99% recommended
Owner Reviews
The Form2 is one of the best printer's I've ever had the pleasure of working with. The machine is expensive, and so is the resin for it, but it's reliability and precision make the cost more than worth it.
The Form 2 is a very well thought out and capable desktop SLA printer. It does what it claims to do, and it does it reliably and accurately.
Great machine that is reliable and easy to use. Print quality is amazing and the built in software is powerful.
Overall, it's a great 3D printer. I truly wish it had a larger build tray. This is my only frustration. I can make dental arches but can't make larger anatomical models like human brain etc...
It's the current best SLA 3D printer in the market at a relatively acceptable price. It's printing quality is simply unmatched!
Compared to professional machines this is much more affordable, compared to open source machines it is much more reliable. It's a good in between alternative.
It is reliable and easy to use. It has great value, precision price. It is very versatile and a lot of materials.
Even though formlabs advertises the machine as open ( meaning use any manufacturers resin) they do not exspose the control need to make this truly open. In effect they are crippling third party resin and locking in their high price materials similar to ink jet printer manufacturers.
frequent software/firmware updates keep the improvements coming even after the purchase. The material is currently pricey, so I find myself more selective in what I print, however the printer does offer an option for open mode, permitting other resins. But its nice using Form 2 designed resins because you always know what to expect. Very glad I chose the Form 2.
Perfect for printing anything from Zbrush sculpts to industrial designs
My Form2 is a solid performer. Cannot print everything but prints most geometries and does so perfectly well. Also, a big plus for the continuous software and firmware improvements delivered by Formlabs.
The Form 2 is a great machine for making precise, small items. The resolution is great and all models come out beautifully. After using a resin based SLA machine now, I feel it is too messy and failure rate is high (maybe 10%).
Well designed with "Open Mode" but minimal support on using other materials.
The Form 2 is a reasonably reliable printer, which is a great tool to learn from. It has some really great functions, but in some ways can still be a steep learning curve. Somebody could do really well, writing "The Idiot's Guide To..." for this machine. The Preform software is great, but not without it's faults. I am still learning things about it after 5 months of using the printer almost daily. The UK Sales representatives are not too hot on ability to offer advice, so the machine can be expensive to run; if it takes you a long time to work out the ins and outs of the machine.
If I have any ideas whether they are artistic in scope or technical I know that I can rely on the Form 2 to get the job done.
Fantastic printer with great detail prints. Running costs and initial investment costs are very high however.
The Form 2 is a very easy-to-use system that provides incredible results from a small desktop unit. You can't get the same level of quality out of a FDM printer.
The Form 2 is a great machine, parts come out with great dimensional accuracy. I have only had 2 failed prints so far with about 40 successful print. Would Recommend this to anyone willing to spend the money.
Probably the best in it's price range. Extreme precision and smooth surfaces! Simply fantastic!
The Formlabs Form 2 3D Printer is an impressive and reliable product that can produce extremely detailed and complex 3D objects. The downsides are that the 3d printer and materials are very expensive and also performs rather slowly.
Great Printer, but expensive!
I have owned the Form 1+ and the Form 2. Form 2 if fantastic. Print success has been over 99% (1 failed print out of 110 prints) (562 hours of printing so far). Excellent value for printing high resolution parts, whether functional or for models.
When it comes to an out of the box 3D printing solution, the Form2 comes closer than any other 3D printer I've seen to being a machine that anyone can operate.
Nice plug&play printer but expensive to run. Good printer for printing low volume of high details prototypes and master parts.
Excellent quality and really easy to use. The best plug and play printer on the market.
Best in it's class, great results when you know how to achieve them. Proprietary resin is very expensive, as are consumables (tank and Build Plate). Not as friendly (operation wise) as it should be with 3rd party resins, some design issues regarding how the printer deals with resin overspill.
The printer is amazing, it definitely deliver on as advertised. The main pain points are: - post processing using alcohol and uv curing which are not included. - material cost is 4-5 times more expensive than FDM printing.
The Form 2 creates prints with unbelievable quality and precision. The support structures can create some difficulty, but are easier to remove than FDM supports. The Form 2 is leaps and bounds easier to use than the Form 1+.
The Form2 is a precision tool of exceptional elegance. It provides exceptional quality and ease of use. If you have the budget it's worth every penny.
Perfect machine prints like a charm Every Time
The best consumer grade SLA printer out in the market a the moment, but it also comes at a steep price.
Great print quality/price ratio.
We are using the printer in a production environment and it has performed consistently beyond expectations.
Wonderful bit of kit. Very high quality prints at fraction of the cost of the major SLA machines. And while it doesn't have all the features of the £100k+ machines, the part quality is comparable. Am looking forward to trying other materials than the standard resins. You need a bit of know-how to get the most out of it, and mistakes can cost you a lot of time and money. It's not cheap to run unfortunately, and the support structure needs some improvement, but overall very happy with the machine so far.
more open software like autofab
For a resin based printer, it is fairly fool proof.
compared to other SLA printers, I find form2 the most easy to handle with fewest problems along the way. (ie. fail prints, flakes appearing, cleaning VAT each print
Super printer, all elements perfectly developed and working together flawlessly. My prefered printer!
The best printer i've had so far, the only downside is the cost of consumables.
This is a very nice printer. Things I would like to see is a cheaper option for materials (haven't found a great reliable substitute resin). The detailing is great but the measuments/ x-y shape accuracy isn't 100%
Best prosumer 3D printer I've seen. The proof is in the print!
The quality and reliability is fantastic
It's a great machine, but too expensive to run. In other words, I would only print final prototypes not a whole process that involves design mistakes. It's just too expensive.
Print quality is second to none for a relatively inexpensive 3D printer
Good printed, outstanding quality. SLA technology is messy and require a lot of additional equipment
Great Printer, well thought out design and craftsmanship.
I was surprised by the ease of installation and print quality. Form 2 is very easy to use, everything is happening from the software level
great printer with low price. not always reliable. problems with continuous change of resin version
The FORM2 is reliable for the first 6 months out of the box. After that, problems begin and continue to get worse. This is mostly because of their 'chip' system. The machine starts to not recognise those chips. I am led to believe that this is actually a software issue, one which will be reviewed this year.
Exceptional Machine, exceptional prints however expensive resin and consistent errors with not reading the print trays.
Great printer with great features
A difficult machine to get the best from, in terms of well finished parts
Great printer for multiple areas but very hard to get the material performance advertised
The hype is real. Form 2 prints are spectacular in comparison to FDM. Would welcome the consumables dropping in price a little though!
For those who want to graduate to SLA-level precision, the Form2 is the best printer on the market for the money. For literally 5% the price of many of its competitors, you get 25 micron resolution with reliability that's unmatched. I never have a build fail. The software is simple to use and allows you to keep all of your critical surfaces clean. The only downside is that you're locked into their material dispensing system which is pricey, but the range of material properties is there for you. I'd buy it today if I didn't already own it.
Very reliable, well designed SLA printer which delivers superior print quality, but the material is rather expensive.
We are impressed with the quality. we try for mold design prototypes and the result are just what we want
Fantastic printer for the price, and Formlabs support is one of the best out there!
Not so much to say, the best experience available when it comes to 3D printing! Just got my second Form 2
FormLabs initial printers had some issues with successful prints; this has been mostly eradicated with the Form2 and the PreForm software. Send a job and it simply works, time after time.
The Form2 is my go to machine. There are many variables to producing a perfect part, but once you become acclimated to this machine it's amazing. The cost of the machine and materials are not favorable, but at the end of the day what kind of part do you want? I personally prefer parts that look great of high quality. This machine serves that purpose well and my customers would agree!
Great printer for an engineer to prototype with. While not the easiest to use (choosing optimal orientations and support structures takes time to learn as well as time to set on each part) it rewards you with near injection molded or machines part quality and accuracy if you take the time to do it properly. This is great to use professionally but would strongly discourage hobbyist and casual users buying this printer as FDM printers are far cheaper to just toy around with.
A great machine for the price that is highly reliable and makes high quality prints. There are some issues with long-term reliability of the lasers in the machines and getting your machine replaced out of warranty is about 20% of the machine's price. Make sure you use the resin up as it and the tanks do have a limited shelf life.
Excellent machine, let down a little by random mechanical problems that require shipping to repair centre.
Print quality and materials are even better than objet. So, for less than $5k you get some of the best resin prints comparing to machines that cost hundreds of thousands. Surface finish is so smooth and closely resembles injection molding. All the posatives of this machine are offset by the labor required to clean, remove supports and the sanding required to remove support marks from each part. Overall if you need models with smooth surfaces and fine features there are few machines that can compete with the form2 especially when you consider cost.
An honestly amazing piece of equipment.
Great reliability and print quality, be ready to pay a premium for that.
Simple unrivalled print quality and build volume in one package, you can get other SLA printers in the target market but none yet seem to come close to what FormLabs have bundled up in the Form 2. Easy to use and once mastered the ways of SLA then a dream prototying companion. A little bit of a shame the resin/tank costs are quite high to keep the system running day-2-day.
The Printer only fails if YOU fail at modelling!
High quality of print. Expensive materials
The Form 2 produces prints with an amazing quality! The running costs are the only downside. It is a very well build printer
It's great, the only problems i've ever had have been my fault not the machines. I run my form 2 Everyday, and get an amazing print every time. I can't recommend the form 2 highly enough.
The Form 2 is an extremely high quality and user friendly machine. I have had some issues with breakdowns but Customer Service was there with a replacement in no time.
The form 2 offers exceptional quality for its price.
Great printer with insane accuracy and detail quality. However, it's expensive to maintain and can be quite messy - resin spills are hard to clean.
It's an excellent machine that leaves little to be desired. One of its biggest downsides though is the running costs. Photopolymer resins are extremely expensive(>$150) in comparison with your everyday PLA/ABS filament(
A great printer for the price point, but make sure you follow instructions close and learn about SLA printing before you start. The software is helpful and intuitive. The choice of materials is also really good but you need to stock up on rubbing alcohol, an area you don't mind getting messy (cleaning the prints is extremely messy) and paint filters to clean your resin tank after failed prints.
The easiest and most reliable SLA machine. If you need simple, high accuracy parts, this is your best bet. You are however limited by Formlab's available materials and what they allow you to change in their Software, which is not very much.
For me the best SLA on the market ! Period.
The best 3D printer I have ever owned! It's a little pricey for materials but it makes up for that with the surface finish and accuracy. If time is money then i wouldn't buy another printer.
Fantastic print. the quality is unbelievable, and simplish to use. Cost of material is high, but the precision is worth it.
Excellent detail. High running costs, but well worth it if the detail is needed.
Great 3D printer but it requires a lot of post processing and consumables are very expensive and need replacing often.
Shockingly simple to produce amazing quality. The PreForm software and well rounded ecosystem make this great value for the power user. Can you get into SLA for much cheaper ? Yup. Will you get the near 100% success rate and 1-2minutes from STL to printing ? Not even close.
Fantastic, Reliable and Easy to use
In the group of desktop SLA printers, it's the best. Great quality, great range of materials. The downside is the handling and finishing of the printed parts.
It's solid. Extremely reliable
I was impressed with my first machine enough to buy two more. So much easier and more predictable than my FDM machines. The level of print detail and the ability to print just about any geometry is fantastic. Looking forward to getting more of these machines online.
It's been a great addition to my business. It is capable of making a high quality, highly accurate part. Some of the materials are not as good as Formlabs claims, such as the high temp material and the tough material. Both are very brittle will break or chip easily, especially when removing supports. Another recent issue was the laser on my printer. The machine is a 1.5 yrs old and the laser is "dying". Formlabs said I would have to pay $800 to fix it! That is 23% of the total cost of this printer!
The detail the form 2 is capable of printing is amazing. The different, well developed materials are a huge benefit. The option to print rubber like parts, tough, durable, high temp, etc is one of the main reasons I chose the form 2. The price of the resin and tanks is high. I would not recommend it as a strictly hobby printer unless you have deep pockets.
Excellent reliability and quality of 3D printed models.