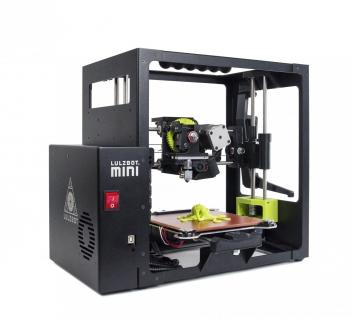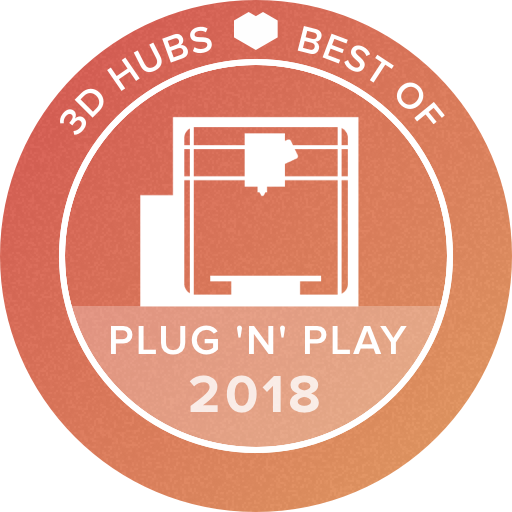 The Mini is the smallest FDM printer by Aleph Objects. It has a buildvolume of 15x15x16cm. The Mini prints with any 3mm filament. It reaches a maximum resolution of 50 microns. Lowest resolution is 500 microns.
Available from these sellers
100% recommended
Owner Reviews
Great beginner printer, ie ideal to learn the process/workflow but not particularly accurate or repeatable
The Lulzbot is easy to use and is reliable. I have had a very good experience with it. I have had very few failed prints, less than 3 percent.
The Lulzbot Mini is an excellent printer, you will not be disappointed. It has been an absolute work horse for me running multiple prints almost everyday. The open source hardware and software is a huge plus. I only have two main complaints, and they are easily remedied. The first is that there is not a way to control the printer on the printer itself, thus, all prints must be run tethered to a computer. However, this was easily fixed by adding a raspberry pi configured with Octoprint for wirelessly printing. The other issue is with the starting procedure/bed leveling process. For low temperature materials, like PLA, some of the material can ooze out of the nozzle after it finishes wiping, because the wipe temp is to high for low temp materials. This oozed out filament, interferes with the contacts during the bed-leveing process causing it to fail. This also is easily fixed. In the starting g-code, simple copy/paste the wipe procedure, in again right after the first wipe. Only for the second wipe change the temperature in the g-code to 135 C. This has completely solved all problems for me.
It's one of the easier to use printers, and doesn't need a whole lot of knowledge about 3D printing to get going and to maintain. It's a great starter printer, but it's also a great printer for someone who loves to print, but doesn't want to deal with needing to fix their printer on a regular basis. Very reliable and produces good quality.
This is a great machine! It works out of the box and is super reliable. It has an open-source team and community behind it.
Great printer with a few cons
Great printer, only had one major issue. The slicer caused to print head to intersect with parts of the printer. I was able to print and replace all the damaged parts on the printer. I dislike the auto head cleaning feature, I don't think it's very useful and is mostly a waste of time.
Cables that go to the heated bed are too strained and they interrupt. Otherwise is bulletproof
It's a tank, anything that has gone wrong with it has been my fault (I dropped it and the only thing that broke was the connector on the front where the USB cord smashed into the ground). The latest versions of cura are surprisingly good, but it's still lacking some killer features like modifiable supports. Overall the mini is a fantastic reliable machine that has given me insane value for money. I would absolutely recommend it and even more so Lulzbot in general.
I think the LulzBot Mini is great if you want to get started with 3D printing and you don't want to deal with assembly, calibration, and other details for DIY printers. Customer service so far has been very responsive. The only troubleshooting I've had to do is making sure enough filament is fed into the printer head before starting a print or the beginning of the print will be ruined.
A extremely reliable machine with perfect support. A bit expensive, and not very sexy looking, but the best printer if you just want to print.
What a great printer. It's my workhorse, printing non stop almost when I have projects. It's very easy to use and comes calibrated from the box. I've only had issues recently with the bed heating but customer support has been very helpful
As close to Plug n Play as it gets. You'll have it un-boxed and running within 15 minutes with standard profiles. Very well built and reliable and with some experience, you'll be printing outstanding prints in no time! Truly one of the best purchases I've made in years! I'm a very happy customer/user!
Awesome printer to own with the best community. Downside is it does not have much potential to upgrade.
Great printer, easy to move around and great quality prints. However because it has to to run on a USB cable it makes it more likely to stop a print even if you knock into it lightly as well as having to leave your PC or Laptop on the whole time. Their customer service is pretty bad and don't always get to the root of the problem.
Reliable and easy to use.
Lulubot printers are definitively a must for every profiles. The only downside of the Mini is its build volume where the Taz 6 will do the job.
The lulzbot Mini is a very well made and reliable machine, that's easy to use without any problems. The community is good and the customer support is amazing. It is a tiny bit pricy, but definitely worth it if you want a good reliable printer.
There is honestly not much I can complain about, it's a fantastic printer, best printer I ever used. Yes there are occasional draw backs like build volume is a bit restrictive and sometimes a dual extruder would be handy, but beyond that it's the best.
Lulzbot Mini is a great plug and play printer right out of the box. Open source hardware allow the parts to be easily replaced which means the printer will last very long down the road. The printer comes with complete and excellent documentation and support. It is more expensive than your usual hobbyist printer but you do get what you pay for .
Fantastic little printer. Ideal for fast and medium/small products/testing. The Taz 6 I assume will be equally good for larger prints. A great company, with super support.
I love my lulzbot but within about 12-16months I have had multiple components break. Customer service was okay during warranty but out of warranty not so much. Lulzbot really needs to update their forums on how to fix their machines as well as identifying parts. The printer was awesome for the price but that being said I'm on my 3rd heated bed. Pros: Open source, print size, heated bed, easy to use, autoleveling. Cons: reliability of construction, no SD slot
The Lulzbot Mini is a fantastic machine, with great build quality, customer service, and community! The open-source build makes it great for tinkerers and hobbyists, while the ease of use makes it ideal for educators and new users. After heavy use, I've found that the print quality tends to suffer, but overall, the Lulzbot Mini is a great machine!
Essentially this printer sold me on their brand. I own both a Mini and a Taz 6 and they are my benchmark machines. The Mini is fun, portable(even has a small hidden handle to carry around) and prints like printers twice it's price.