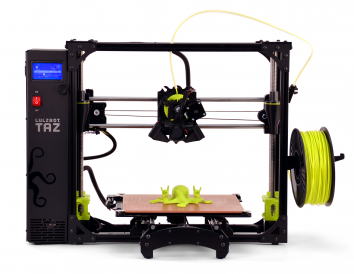 The Lulzbot Taz 6 has an integrated automatic bed leveling system, all metal LulzBot v2 Hot End, and heated PEI print surface. The modular toolhead allows for optional upgrades to print flexible filament or to allow for multi-material printing. It boasts a fairly large build volume of 28 x 28 x 25 cm.
Available from these sellers
100% recommended
Owner Reviews
Fantastic printer with fantastic support.
Great experience, from opening the box, initial setup, documentation all excellent. Support is great too when you need it or have a question. This thing is a tank, and built extremely well. I also trust it to just work. I've done 70hr prints and left them unattended and they came out perfect.
The Taz 6 is one of the best printers we have gotten our hands on. The price is a bit hard to swallow but it is a superb machine for that money. It is decently fast and extremely reliable. The moving bed is a bit of a pain but that can be over looked because of the rock steady quality and consistency it provides
Very cool printer. Reliable and precise
Its a great printer. Autoleveling is the wonderful!
Great all-around filament printer built like a tank.
The TAZ 6 is extremely well built with an amazing community behind it as well as excellent customer support from Lulzbot. Some basic 3D knowledge and a lack of fear for tinkering is necessary, as with any 3D printer. It prints very nicely out of the box, it basically is plug and play. It takes some tweaking to get things perfect but once you do, print quality is simply amazing. Construction is great, maintenance is simple (so far), build volume is huge, and I could not be happier with my decision. The one knock I would make is the cost. While you do get a lot of printer for the money, and it is a turn key printer, it is priced a little high. Even so, I would highly recommend the TAZ 6 to anyone in the market for a 3D printer. It is an amazing printer and worth a look.
Great out of the box experience and with some tweaking it is a formidable competitor to ultimaker and makerbot printers
Lulzbot Taz 6 is a workhorse! It has printed numerous times since I bought it and have never had it break down. It's paid for itself several times over.
Big, strong and reliable. Not perfect, but I have not seen one that is! Reliable enough to allow me to offer prints on a commercial basis and on the occasions when I had to make a quick fix it has been possible due to the robust nature of the design and the ease of access to all the parts. Customer service is amazing, best ever, but not sure it balances out the purchase price. It is not cheap to buy. Would I buy it again? Yes - I like a machine that just does what it should.
Please be advised I'm reviewing this printer against my Form2 SLA machine. If you're looking for a reliable machine in terms of part size and machine reliability/repeatability it's a great buy. The material selection is huge, but the part quality is not even close to what I produce on my SLA machine. Overall part and consumable cost is lower. So it really depends on what you want - low cost parts that look ok, or exceptional part detail at a slightly higher cost.
Amazing machine that is very capable and reliable. The staple in my 3D Hub
You pay a bit more but it's worth it.
We have a few of the TAZ 5 and we thought they were good little work horses... The TAZ 6 is everything in the TAZ 5 plus auto-leveling and a few other great additions. If you want just load and go printer which can use pretty much any filament then you've just found it.
I researched the platforms out there before I purchased devices and found this unit to be the best quality for price as well as over all be system for my money.
This printer is a reliable, well supported and well built work horse that can produce high quality prints day in, day out.
It's hard to find a better priced printer with a build volume that matches the Taz 6. With the swappable Flexistruder, this workhorse can tackle any medium to large prints we could ever need.
The TAZ6 is a great tinkerer's tool. With many parts of the TAZ6 are 3D printed parts, users can modify and 3D print replacement or upgraded parts. While the TAZ6 has a large build volume, it doesn't have a removable build plate, but users can purchase an build chamber enclosure as an optional add-on from Lulzbot. The TAZ6 has a long list of stated compatible materials, but users may find that many of these materials and printer profiles might not produce the absolute best results, and the printer may require tweaks and adjustments to both hardware and software to achieve the desired print results. The hefty price tag along with the lack of newer features found on many other printer models at a similar price point, doesn't help to uphold it's value as much lately.
I have owned my Lulzbot TAZ 6 for over a year, printing through over 50 rolls of filament and it still prints amazing. The price is higher than some but you do get a well build machine with great customer service a huge print volume and a lot of options. If you have the funds, this printer should be on your list.