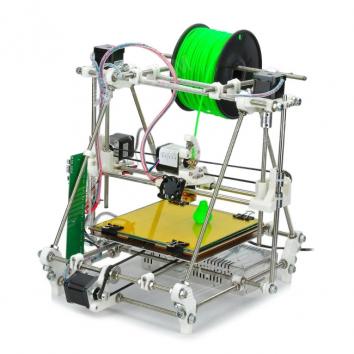 The Prusa Mendel Iteration 2 is an improvement of the original Prusa Mendel, and was released in November 2011. This version precedes a third iteration i3. True to the RepRap roots, there are a lot neat customization and upgrade options.
Available from these sellers
100% recommended
Owner Reviews
This is defenitely for expert and thinkering people who like challanging things
The specific printer I bought, the Makerfarm Prusa i3v8, is great for beginners and intermediates. As long as you have decent knowledge about computers and can follow assembly instructions, its an amazing machine. It'll run as soon as you get it together and can always be upgraded and modified once you get some experience.
Very affordable i have the black acrylic version, i have made a custom box for my printer as a level base is a must. Every so often calibration is required, even room temperature ensures excellent prints. Can be hopped up to a dual extruder.
verry good printer. not expensive.
This is an excellent printer for learning how 3D printers work, and for being able to easily debug and understand printing problems. The only real down-sides are that the print quality isn't as great as some of the newer machines, dual extrusion is not standard, and the z axis only has about 100mm of room to work with. Other than that, it is a great printer. And the price for a kit is less than $300, which is really tough to beat.
excellent machine to build and maintain
Good product for personal use...
Great value for money but do not expect perfection without good and dry filament and a special control humid and temperature.
Home built printer is the only way to gain sufficient understanding to maintain a running printer.
For a low budget printer, it is difficult to find better. Also easy to use and recommendable for beginners and experts.