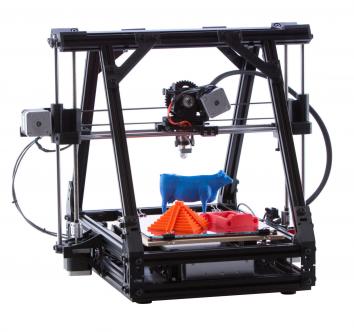 This Open Source RepRap 3D printer was designed by Maxbots in December 2011. This Kit utilizes 3D printed parts in production and has an improved and more rigid structure. Its successor is the MendelMax 2.
100% recommended
Owner Reviews
A decent 3d printer for someone who has had a low quality printer previously. However, it is also good for someone just getting into the hobby as long as you understand that instructions for building the printer are generic and only apply loosely to your actual build. This means you need to be confident with your mechanical abilities in order to build the printer and to get it running without any issues.
great build volume for small price
Our MendelMax 1.5 was our first 3D printer listed on 3D Hubs. We bought the kit, which at the time was MUCH more expensive than most kits are today in 2016. The kit is quite involved and can take a few days at least to fully assemble and configure. The value is not as great as compared to more recent printers, simply due to it's initial cost when we got it years ago. The printer has performed excellent and has stood the test of time within our studio. I would only recommend an involved printer kit in general, to those who are mechanically inclined, and not necessarily for the budget minded shopper.
Its is a very sturdy, solid design. If I had to pick one thing that bothers me it is the Misumi Dual Rail used and carriages used for the Y axis. It adds a small amount of potential shift while printing.
It's a real hard working horse for me. I used MendelMax every day for more than year and it still have a good quality but sometimes I have problems with extruder.