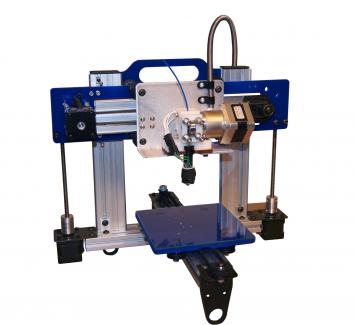 The ORD Bot is a version of the Printrbot design built around Makerslide: structural aluminum extrusion with bearing surfaces molded into each side. This improves frame stiffness, mechanical reliability and print speed, the only downside to which is an increase in cost.
100% recommended
Owner Reviews
The ORDBot is a high quality kit reprap machine that gives excellent quality for a good price. The frame is very rigid and it can run very quickly while maintaining quality prints. I t is not plug and play, so its better suited to makers and hobby pros.
The ORD Bot Hardon is delivered as a self assembly kit (Prusa i3 alike). It was my first 3d printer. Assembly was quick and asy and it worked from the beginning without lot adjustments. Especially the Bulldog-XL Extruder with Hexagon Hotend is a perfect combination. I never had clogs and different filaments (PLA, ABS, PETG) can be changed without any hassle.
It is a work horse. Is working 24/7 with no problems.
It works 24/7 with no problems
Good printer, many mods you can print to it to make it better