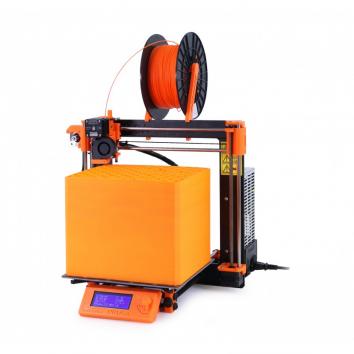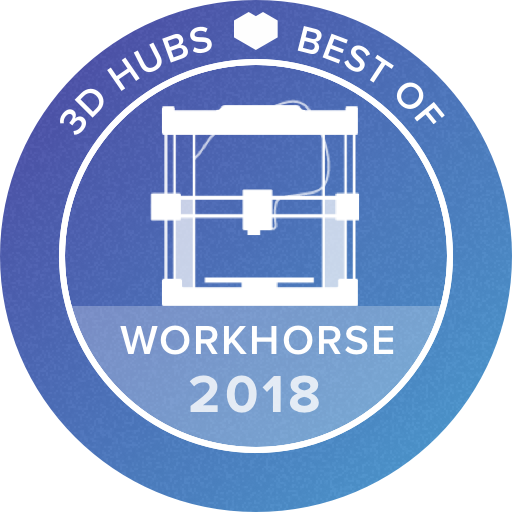 The Original i3 MK2S is the second version of the popular i3 MK2, upgradable 3D printer from Josef Prusa that includes updated hardware including a new probe and rods. All parts of this 3D printer are Open Source and are part of the RepRap project. This printer comes equipped with a heatbed with cold corners compensation for warpless 3D printing from a variety of materials ranging from PLA, ABS, PET, HIPS to Nylon, Bamboofill, ASA and Polycarbonates.
Available from these sellers
100% recommended
Owner Reviews
Prusa is Leading the innovation in 3D Printing. His designs and his Continuing effort to bring the latest tech to the 3D world is why i love my Prusa Mk2S and can not wait till the MK3 arrives.
Great printer, a few too many cable zip ties in the build for my taste but it delivers solid quality for a price that is not matched by any other in the same print quality class.
It's an awesome maschiene!
Really good machine, really good software but it requires a lot of maintenance like any RepRap machine. It is also very loud, unlike the new MK3
Best quality printer for the money, and can easy beat other expensive printers out there
Best all round 3d printer
Tiewraps to assemble the printer is a problem. The extruder is basically hidden from view. My last failed print had material completely covering the nozzle which I did not see it hardened then I could not remove it without disassembling the entire extruder assembly ended up having to replace the entire hot end of the printer.
Best value for money on the market in my opinion, along with a print quality that rivals printers several times more expensive.
I bought it as a kit as I love to build things so I self assembled. I was pretty impressed by printed parts used for assembling the printer. As it is open source and huge support worldwide, you can play with settings and get your parts printed without any degrees. The print quality is amazing and gets awesome outputs on different filaments. Online guidelines are best to understand for detailed videos and images. Assembly is made simple as possible, like as easy as tightening screws. Works well with Cura and now it has it's own Slicer PrusaControl (just for beginners v2.9). Overall I can easily rate Mk2S to 9.5/10
The Prusa i3 MK2S offers excellent quality and reliability while being easy to use, at a low price!
Great printer for the price. And in my opinion the best all around printer with a great community.
Best value for the buck and pro open source solution, mostly.
I currently run three 3D printers, each from a different manufacturer. Of the three, the Prusa is the most flexible. In the 2 months I have operated it the only failed prints have been due to user error. The best improvement it could have is an enclosure fornbetter ABS printing.
Love this printer. Works great and provides quality results all the time.
Good printer with excellent print quality.
Very reliable machine ive used and abused it for almost a year and it still prints as good as the day i assembled it... Fantastic company fantastic community
Best printer i can think of, easy to use,good quality
It's a fantastic printer that consistently produces fantastic prints with little effort, well worth the extra cost over a budget printer. I love how consistent and reliable it is.
Basically the best and mot affordable printer that is out there.
This is by far the best printer I have had. It callibrates itself right after you assemble the printer and does everthing for you. Really nice piece of technology!
It does what it says on the tin.
Love the printer, there are a few print failures that I wish the printer could recognize or fix which they actually fix with the mk3, bit overall this is on of the best low cost fdm printers I have used
It is a great printer for the money, great quality prints and descent print size. With this you get alot value for the money.
Really good printer for your money
It's one of the best (if not the best) printer for its money!
Few teething faults along the way, however no major problems and prints beautifully
Nice printer, MM upgrade not ready developed
Great affordable printer. Easy to build and first print comes out perfect.
If you want to build one from a kit, buy this one. There are cheaper versions, but you will need to do major upgrades (costs) to meet the Original Prusa level.
I really have nothing bad to say about this printer. The couple of prints that did fail we're due to bad filament or improper slicing on my part. I would recommend beginners to buy this due to fact that they have to assemble, which makes them learn how the printer works and how to fix issues if they arise. And the instructions are so detailed that it is simple to assemble.
It's a all round workhorse, great for the newbie to the professional. Excellent build quality and fantastic print quality, at an affordable price.
Fantastic prints and features for the price. Great value!
This is the best printer for its price i have no complaints with it. Its very reliable and any failures ive had with it have been due to a defective model or inproper preparation such as not cleaning the print bed first. But never because of the printer. I would recommend this printer to anyone!
Excellent machine with great reliability and ease of use.
It is a very good printer and yes there will be new designs and features in the future but the MK2S can remain successful in the future...