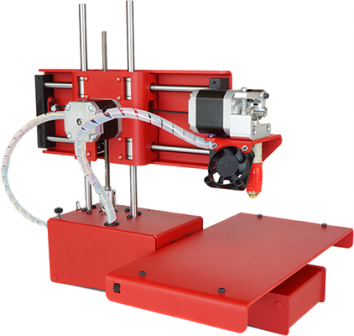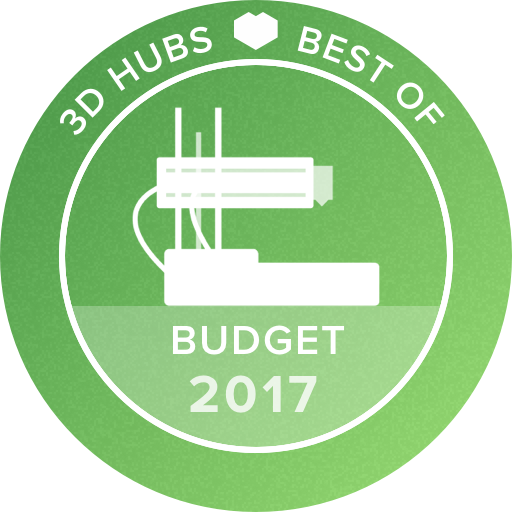 The Printrbot Simple Metal is the upgraded version of the Printrbot Simple and comes with a steel frame and aluminum extruder. It features an auto-leveling probe that simplifies Z-axis calibration. The build volume is 15 x 15 x 15 cm and it prints PLA at a resolution of 100 microns.
Available from these sellers
100% recommended
Owner Reviews
Really good printer, easy to customize
An outstanding printer for an outstanding price. The best value printer--perfect for an educational setting where students can see the whole build process exposed. The hardest part for me has been taping the bed so that the prints stick.
This is a fantastic printer for anyone who wants to learn about 3D printing. Out of the box it's nearly plug and play but since you have easy access to all of the components of the printer, you can upgrade or change anything you want and learn more about exactly how every component helps the printer function.
Machine prints decent out of the box but tweaks such as tightening of bolts is recommend before usage. I also recommend adding a bed upgrade like a PrintInZ board instead of using painter's tape on the bed for better adhesion and easier removal of prints. Based on software experience I recommend Simplify3d over Cura when using a Printrbot.
Simple and efficient, this is a highly modular printer : New heated bed, hotends or even axis extensions (X and Z up to 25cm). However, this is could be quite expansive BUT you pay for the quality. Nice build quality, strong materials. For a $700 3D printer, the quality is quite awesome, but for a beginner it might be hard to achieve.
Great printer. Assembly took a few days on and off and it took me about a month to dial it in but now I couldn't be happier. Adding a heated bed and increasing the print size were some of the best upgrades to it. I also added an e3d v6 and print quality is great adding a more powerful fan helped a lot. I have also gone through a few printrboards due to the USB plug breaking. But I couldn't be happier with the quality of the machine and print quality
Good little printer, great price, and OK quality of prints made this a great purchase.
My heated bed wasn't 100% level so I contacted customer service and they sent me a new one. Works best with PLA although ABS is possible. 8/10 would recommend
It's my first printer it's reliable and a good bang for the buck.
Great printer for it's price. Especially worth it when buying inside the US, allthough rather expensive to get in Europe. Simple design and surprisingly good print quality, but the printer needs some additional accessories e.g. a second fan ,a heated bed upgrade and a fan shroud.
Overall it's a good quality low cost 3D printer
The Printrbot Simple is exactly that. It's very simple. It has an all metal construction, is quite reliable, offer great print performance, and is open to your choice of slicer software.
Good build quality for the price and therefore a good value, but complete lack of customer service, quirky design issues and even quirkier company make it difficult to recommend over a Monoprice/Flashforge/Reputable Prusa Kit
I love the customization. I've replaced several parts with my own modified 3d printed versions of them. Community is the best I've ever seen.
The printerbot simple metal is a amazing machine I have gone down to 75 microns the print performance is great. The build quality is fantastic too all metal construction, but the customer service is outstanding I emailed them about a part I broke building it, not their fault and they sent me a new one completely free of charge.
Cheap and works sometimes. Good entry level printer
Good, solid, does its job reliably.
The printrbot simple metal is a good entry level printer. It's easy to maintain, not too difficult to run, and is a well built printer. The whole thing can be taken apart and rebuilt by the operator but I have not had many issues with the components. All in all it was well worth the buy. The best part about this printer is the fact it's open source.
It's a good printer, but with newer and cheaper options coming along, its value is not as high as it would be a year ago.
best value printer for the quality
Great beginner printer that would fit hobbyist
Overall a decent printer, quality control is an issue.
Awesome printer to grow into.
Excellent printer. It uses Cura as a slicer, which is a decent software although somehow limited. To start in the 3d printing world, this is a great option. The new Simple Metal that is about to get launched seems too expensive compared to its predecessor (also compared to Prusa i3 MK2)
Be prepared to spend A LOT of time when you first get it but once it is up and running there is almost no maintenance.
It's a robust, easy to use, easy to transport and reliable 3D printer
The Printrbot Simple Metal isa powerhouse at a low price! For over a year, it has produced prints of excellent quality. A great budget printer!
It is a fantastic printer that has so far printed everything I can throw at it within reason. The print quality is fantastic and the community is constantly coming out with improvements and upgrades for the printer.
The design has been around for quite some time now, but has aged incredibly well. It is still one of my main workhorse printers. With some upgrades to the hotend, heat bed and motion platform it holds up to even expert level printing.
Most early failures due to operator error or poor filament. Some component failures but latest versions much better. Expanded to add extra Z and heated bed. Very good features for price.
Great printer for the value (except for users outside the US). It needs some tweaking to run properly, however the design and quality is great once you get to know the machine. If this thing was available in Europe for roughly the same price, this thing would be a 10/10 for me.
Extremely reliability!!! 5 years now and the only problem was on extruder!!!
Good beginner's plug n' play printer
Built like a tank. Very easy to pick up and take with you for demos
It is a solid, reliable good 3d printer
Very solid and strong workhorse 3D printer. We transport it everywhere and it just always work !