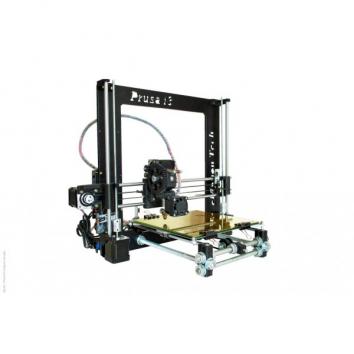 The Prusa i3 (iteration 3) is the newest and most current 3D Printer design by RepRap Core Developer Prusajr. It is fully open source, can take different forms and sizes, while many of the printer's parts can be printed.
97% recommended
Owner Reviews
Nice printer to start understanding how it works!
Cheap way to print models
I really like this printer. It was a good way to jump off into the 3D printing world for sure. You get to learn how things work and how to adjust them. With that, you get to learn what to do when things go wrong. There are a few things I would recommend replacing right off the bat though. Those are, replacing the heat bed with an MK3, install a genuine E3Dv6, replace extruder with an E3D Titan. Things that make your life easier that you don't HAVE to have, borosilicate glass with PEI on top.
Have a FolgerTech i3 2020 and love it. Have been slowly upgrading it, and it's been a fantastic machine for the price and a great way to get into and learn about 3D printing.
If you have the time and the will, a DIY Prusa i3 can be a reliable, flexible, cheap and well-functioning machine.
Great project, complete solution, under continuous improvement. The best quality/price printer for a maker.
Very good value for price but need some improvments to print with a good quality. These improvments does not require a lot of money but time and mechanical understanding
The Prusa i3 is an amazing little workhorse. Plus, with the recent release of the MK2 dual and quad extruders, you can't really beat the Prusa at a great price. Does require some knowledge of assembly and maintenance.
Best value for your money
Cheap Chinese clones will let you down on print quality, but it's fun to assemblee, tweak and upgrade them to make it better! That's all part of the fun!
Fun to put together, requires some tinkering but if you have a decent knowledge of 3D printers or engineering, you'll manage without any problems. This is not a professional level printer but more for the hobbyist.
Great reprap prusa i3. Just have to find the good slicing software and you're ready to start your journey!
Great and sheap printer, but some problens about the controller
I've got the Geeetech Prusa i3 (with dual extruder, that doesn't work proberly, but i'm fine with just using one extruder. It was a kit and I had to assemble it myself. It came with a digital (Chenglish) manual. I'f you're familiar with basic electronics and know how to assemble stuff it's doable. Had some issues in the beginning, but now it's printing perfectly fine for the price of the printer.
I love the machine, hate the build instructions they were awful. Hate that it goes out of alignment too easily and then takes so much trial and error to get it back running again. Once you have it back in alignment it runs so well.
The printer is well designed for the budget. It can easily do what a $1500 printer can do but only costs ~$300 with upgrades. It was a great learning tool and came as a kit. I fully understand how 3D printing works now and can improve the quality of my prints.
Awesome, very pleased with the printer, haven't had issues at all. Only things wrong with it were during the initial setup which ended up being my fault.
Very good for learning and training purposes. Great for R&D and prototyping departaments. Big variety of availavle materials. Good value for small price
I love that this machine is affordable, open source and that there are so many ways to customize it. That being said, it requires some upgrades to achieve reliability and print quality. If you're looking for great prints out of the box, you will be sorely disappointed. If, on the other hand, you enjoy the experience of building and improving your printer, this is a great option. I really like my aluminum 2020 variant from folgertech.com
The Prusa i3 is probably the best printer to buy when you're first dipping your feet into the rapid prototyping world. I would say it's better than a plug and play model since you have to actually learn hands on. The biggest thing is also customizability. The community for the printer is vast and offer great solutions to any problems and new parts to make your printing experience uniquene.
A very cheap, but good printer. You need some technical experience to build and run it, but at this price you would expect this. The printing dimensions are at 200x200x180, this is a good choice.
good quality for fare price
It's a solid bit of equipment suitable for anyone of any background. Doesn't take a technical person to run either.
I recently upgraded my i3 to the i3 Mk2. It is a great printer. The auto calibration features combined with the heated PEI-coated build plate makes it very easy to print with. I rarely get adhesion issues anymore.
Josef Prusa and his team provide an excellent machine and brilliant support.
It's a great learning experience to build your own and learn the basics of 3D printing. It's a little noisy for desktop printer but it's great value. It requires some maintenance like clearing blocked nozzles but otherwise reliable. The only real downside is no easy upgrade to a dual extruder to print support material.
inexpensive and reliable machine
Prusa i3 is perfect to start with 3d Printing.
A good starter machine.. lots to learn to get it to print well and reliably. easy to change/tweak improve
This Prusa i3 kit is a cost effective way to get involved with 3D printing, and to be able to learn how an FDM 3D printer works. By building your own printer from a kit over a few days, you'll learn what the components are, how they function and how to maintenance your printer in the future. Kit printers tend to inherently require a greater amount of maintenance to keep them printing well, in contrast to many other fully assembled and ready-to-print options. Kit printers should only be purchased by those who are mechanically savvy as it can be overwhelming and frustrating to some. We feel that budget minded buyers who just want to get to printing with a new 3D printer should avoid kit printers.
Best printer for the price. Open source and upgradable.
The Original Prusa i3 MK2 was designed by one of the pioneers in open source 3D printing and that experience shows. It's reliable and precise yet not expensive.
Real workhorse that won't let you down.
Prusa i3 is a good printer, and have loads of material about it online and free. If the firmware is well set, and the printer is align an tight you should have no problems printing.
best budget and easy to use printer once you assemble it.
The team behind the Prusa i3 have incredible knowledge and know exactly what improvements need to be made. The price is a little steeper than others, but that price comes with superb technical support, excellent part quality, and you're supporting the development of the open source community, upon which the 3D printing community truly shines.
Well, its been a while with my Prusa i3. What I like of it is that after a while tuning it it has awesome prints, it accept variety of materials, and has awesome quality printing. It is a bit slow but it performs great. What I dont like a lot about it are the 3d printed parts on it. I believe I have almost replaced every 3d printed part on it. After replacing 2 or 3 parts of it I had to make some spare myself, because it may brake down on a middle of a print and until I could repair the broken part to print out the part to replace, or get someone to print a new one for me it could take some time. But for price, I believe its a great item.
There are MANY people making clones of the Prusa i3. So, this survey needs to reflect that "Prusa i3" is more of a type of printer and not any specific 3rd party manufacturer. The original Prusa i3's are amazing and can't be compared directly to every knock-off by just a single name.
Being open-sourced by design, the Prusa i3 allows for modifications to be made as I like. For example, I can add custom hot-ends, or just different heads. The overall functionality is what I had hoped for from a self-assembled kit.
If you know nothing about 3D printers start with a prusa, learn to assemble it so you know how everything works and you can repair it yourself
Great printer to learn the printing process, but some time is needed to get it all to work perfectly
Very nice printer once everything is calibrated.
Great printer if you don't mind working as much on the printer as on your prints.
I like very much the prusa i3. It is not a plug and play machine, be prepared to lots of tweaks and upgrades.
Need a lot of maintaining
The Prusa i3 is great to learn about all the variables of 3D printing, and gives you room to explore new things. The great thing about the Prusa i3 platform is that you can update it in any way you like, either by buying original kits or by tinkering a lot ;D
The Prusa I3 and the Prometheus hot end are the truth! The fact that I can improve the design, add bowden fixtures and change the Marlin software is great. I can change print nozzles I can change layers I print very large of reasonably small. The Makerfarm is the best printer you have never heard of.
Great design but as for most of the cheap 3d printers, need a lot of work to understand how it really work ..once this done it's a really good product in this price range (200€)
It's a great platform with an amazing community. A kit can be had at a low price and I've seen prusas beat much more expensive printers for a fraction of the price. No matter what I get next the prusa i3 will always have a special place on my desk.
The Prusa i3 is a great value printer, sure it needs some tinkering to get it churning out reliable, decent quality prints but that only builds your confidence with the machine and gives you the knowledge to keep it running smoothly.
Three years and dozens of modifications later still the best RepRap ever! It needs lots of love but also can reward it.
The original Prusa is great for grandma and the grandkids. Calibrated or DIY you can't go wrong for the build volume - price - reliability. For beginners on the cheap a P3Steel or a cheap knockoff P3 modified with a steel frame (Think Geetech or Hictop and orbello steel frame) will get the job done for under $500. There is no printer with a larger community and deployment than the Prusa I3.
semplice meccanica ma funzionale, personalizzabile,buon rapporto qualità / prezzo
It's the best open source 3D printer, also because you can modify it without any problem. We created our Syskrack i3.
It is a great printer and opportunity to start in 3d printing world
It´s a really good printer with excellent print quality but the price is also a big upside
Fine machine to start with and experiment with
The good value for thé privé Improvement always possible Good say To learn the 3Dprinting
Good balance between learning 3d printing technologie and quality printing.
Simple, cheap, reliable printer. Disadvantage - afraid of the wind.
Great printer for those interested in DIY or Maker movement. Cheap to run, but also takes a lot of research and patience to get up and running reliably
Just to mention that my Prusa I3 was RepRap variant not purchased original. Josef Prusa is upgrading the product all the time so now original version is much better printer with few very good solutions.
Easy build and after finding and fixing an issue with the extruder motor the prints became decent. The power supply wires get quite hot (replaced with thicker ones). All in all very good printer for little money!
Great machine to start your 3d-printing career, but does need alot of calibration to make great prints.
Great DIY printer, cheap and reliable.
Difficult to start with - but once you're in - it's like an old friend who never let's you down
It is my nº1 printer for years. It is easy to upgrade so it's always printing very nicely.
Great 3D printer. Very customizable and upgradable. I changed lot of things over the years. Changed the spepper drivers to make it silent and remove vibrations, Changed the hotend to the last new and best hotend, changed the extruder to one that easy switches fillament, add a spool holder, ... After almost 3 years it's beter than new!
Perfect value for money OpenSource advantages
nice starter printer, needs some learning to handle, but because its all open you can customize it to your own preferences!
It is acrylic prusa i3 china clone. If you have electronic experience and good tech skills it will be perfect to use, fix, use, fix.
A good calibrate Prusa I3 it is a good value for money!
Once this printer is dialed in your prints will be amazing.
No need for an expensive metal case: it just prints and its print quality is amazing!
Great printer. Not the easiest to get into this is an engineering project, not an easy-bake-oven style 3D printer. It will be as good as you make it out to be. Make sure to get a rigid frame.
Very good printing machine. Price VS quality hig I
Experimental, but great 3D Printer to start
Great value for money......!
I'm very satisfied with my custom Prusa i3. It is very easy to expand and if you are willing to spend time to calibrate it you can reach a perfect print quality!
Great open design, some quirks to operate
Easily adjustable and adaptable for specific needs. inexpensive to run and maintain. With some fine tuning you will get incredible print quality
The largest dual head build platform for the price. Fun and easy to assemble. Produces medium to good quality prints.
A good printer for beginners
It was a super cheap kit, which I had to assemble myself. It works a treat. Though I'm still strugling with ABS settings sometimes. A enclosed buildplatform would probably help. Now I've built my own enclosure.
this M&M prusa i3 is a good choise for us !!
Well, my version is made by myself from ready frame and cheap Chinese components) But it can make all thinks i want and can be modified if required.
The prusa definitely takes some time to master but you won't find a better quality printer for less money
Great little printer, just keeps on printing, non stop :)
Great Printer at a great price. Highly Recommended.
Kit built . Good value. Takes alittle time to setup and calabrate. Once done good prints in pla mainly.
I really like my prusa i3. Never have any problem. My does not have double strudel. But I can deal with that
Great machines. The more time you put into them the better the results you will get.
The Monoprice Select i3 printer is awesome!
Prusa i3 is a great printer to dive in a 3D printers world. While use assemble and use this printer, you will learn most of 3D printers issues and how to solve them. Great for personal use and school projects.
It's a great printer for its value. Though it is a 3d printer, with all it entails. Also, no enclosing for ABS prints, and the heated bed isn't warp free without preparation.
Ideal as first self build. Great for medium size prints. Because of design not as regid as you might want.
Good printer, easy maintenance and running cost, but not professional printer quality.
For the value it's a good printer
My Prusa i3 is a chinese clone (Sunhokey) its a very good printer if you are ta technical guy (or girl) and can build , maintain and solve issues yourself.
Pruse i3 is a cheap printer that is good to use as an intermediate or expert user. If you know the logic of 3D printing you can make this machine rock! Otherwise you may have faced with couple of problems.
Great machine for the hobbyist/novice. I am using my prusa to build a bigger printer. Love this machine.
You learn alot while using a Prusa i3, there's a massive community with everything opensource you can upgrade or downgrade it whenever you want. Customisation over ease of use essentially
The Geeetech i3 proC is an excellent printer to get started. Great price and many features. The problems lie with the heatbed callibration which you have to do now and again and is not easy. The quality is better than I expected for the price. Nice to be able to print different kind of filaments (ABS, PLA, woodfill, nylon). All in all a perfect printer to set your first steps into 3d printing
Great 3D printer for few money, By building it yourself you understand your printer, but it sets also room for building mistakes. The quality of your printer is determined by the quality of the materials you use in your kit.
I have the "Original" Prusa i3 (the one sold by Joseph Prusa from Prusa Research), and it is honestly one of the best printers that I ave encountered. The parts are high quality, the customer support is amazing, the design is brilliant, an the prints are spectacular. It even has a larger build volume than most i3's! (20x20x20 as opposed to 20x20x18). The only downside is that you need a little bit of prior experience to use and maintain it. But overall, it is simply a great printer.
Best printer in the market
As a professional plastic engineer and mold maker. The convenience to build a part in a relatively short period of time at a very low cost, with good accuracy with no tooling is big benefit. I settled for the RepRap i3 because I could get a full understanding of the printer components and how they function. I may want to add build area to a future printer and build it based on acquired knowledge from a basic design with upgraded parts. I am prepared to fix the printer without the need of tech.
the prusa i3 is for people that like to tinker with stuff, if you just want to plug and play the prusa isnt for you
Cheap RepRap Printer that's moddable 100% You can change it and make it your own, Just be sure To print replacments
Great entry level printer. Takes a bit of time and patience to calibrate but once setup, great machine.
If you are looking for your first 3D Printer, buy a smaller & cheaper one. This machine works great, but every time you run it, it requires fiddling with. Long-term maintenance is necessary.
Original Prusa i3 machine by J.Prusa from czech republic. Very reliable machine.
Good printer for low cost, but poor constant quallity, one might be good but the next one might not be.
After a learning curve, the printer prints well and is easy to maintain. Best for printing smaller models (20 hour prints don't work out well).
Very good printer. The print quality and th ease of use are awesome for beginner but i've buy mine on Gearbest and it come with a problem on X axis and the customer support doesn't help at all.
The printer is a prusa i3 style, not an original prusa machine.
Not the best 3D printer out there but great price and quality for those interested in starting with 3D print
The simplest high-quality 3D printer in the world.
After several years of use, it remains for me the best quality / result / price ratio. Its scalability is excellent (installation of auto bed leveling for example).
It's a good Printer to learn about 3D Printing.
Very good Easy to upgrade the printer (but little expencive) Quit noisy
Good printer, but not for beginners
Excellent machine espexially for the money
I think it is a great value for the print quality and build volume, with heated bed and auto level feature, it comes to just over $300. I think this is a great kit to learn about how 3d printing works, get up and running, and print some pretty good quality prints. I don't see my printer lasting more than 3 years because of the low budget build materials, but I think it is a great educational tool and to test how committed you are to 3d printing and evaluating if you want to purchase a more precise/reliable/expensive machine in the future.
That's a good printer, but it's not plug and play. If you buy this printer, you have to be willing to mount it and perform maintenance.
These (older) editions of the Prusa are great to start printing , especially if you want to explore printing and its techniques. The simple build makes it a great experimentation platform for both hard and software.
A moving build platform is the worst to 3d print tall objects. Prusa needs to change this to become the leader.
Great for price as an entry-level printer. If you need precision you will want to spend more.
My Prusa i3 is a home built machine. For this reason I love the printer since I can print replacement parts and upgrade it very easily due to its opensource nature. From what I can tell though, my printer is on par with the Prusa i3 available from Prusa Research in terms of print quality and capabilities.
I have to mention that my prusa printer is an old style made of wood, not the new ones, the print quality is pretty good for the printer that it is, but it took a lot of work to get it there.
Original prusa is a good option for first printer for everyone. Self-assembled prusa clone is good option for hobbyists/students.
A good solid work horse. Once set up. Good constant prints and reliable machine. Upgradeable. Good open source support.
Great value for money but not exactly a plug and play. Quite a learning curve to get it printing well or to maintain it
I've had the GEEETech Prusa i3 Pro X for about 1 year and 7 months and it is a brilliant machine. It requires assembly but the youtube assembly videos are very detailed. My issues with it were a shipped faulty power supply and wrong parts being shipped, check the youtube video comments on that. After solving all these issues, the printer worked just fine and has been reliably working ever since.
I built mine myself, no customer service there!