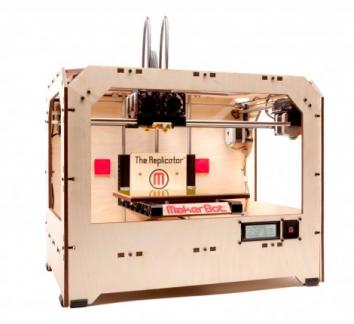 The first desktop 3D printer from MakerBot Industries to truly hit mass market. The originally open-source Rep 1 was impressive for its time, many current printers are based upon its design. It had a respectable 22.5 x 14.5 x 15 cm build volume, was relatively consistent, could print 200 - 300 micron layer heights, and had dual extruder support.
100% recommended
Owner Reviews
The Markerbot Original is a fantastic machine if you want to get into the fundamentals of 3D Printing. The machine has a massive community that has assembled hundreds of upgrades to the machine that can all be printed. With a little effort, you can make this machine into a real rival to newer 3D Printers for half the cost.
A good printer for the price
Too bad this machine is not longer being made. I'm lucky to have one of these little workhorses!
This machine will never die. It is forever fixable. And forever requiring fixing.
It's a great machine and easy to maintain.
As configured stock from the factor, the plastic arms were problematic, but with an after-market upgrade to the arms, it is a fantastic machine
The Makerbot Replicator Original provides consistent, and reliable print quality. Once everything is tuned in, I can press print, and not have to worry about it failing. However, in order to get it printing well, I made multiple modifications to the printer, such as adding an active cooling fan, and a glass bed. I would not recommend this printer to those who just want to open the box and find a print ready printer. I would recommend this printer to tinkerers, and more intermediate users.