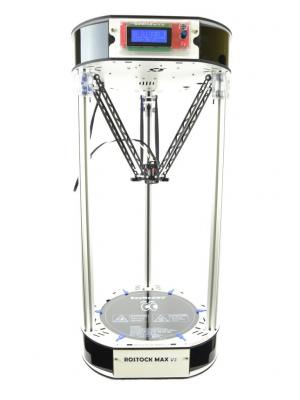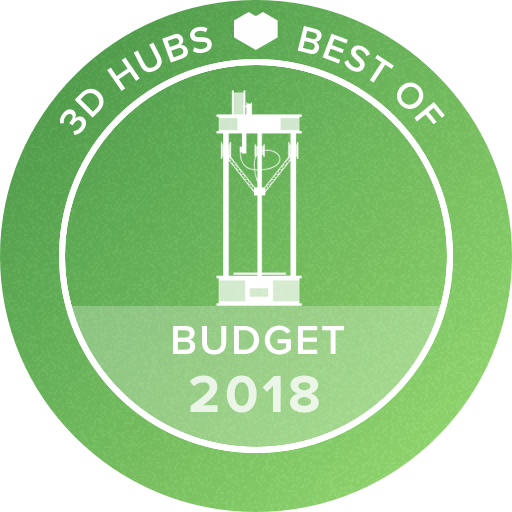 Originally starting as an Indiegogo campaign in its first iteration raising 777% of its original target. The V3 is a reasonably priced, Delta style printer with a build volume with a diameter of 28 cm. and a height of 33 cm. It prints with a speed of 100 mm/s and a resolution of 20 microns. With nearly half the hardware and twice the high strength molded parts, the RostockMAX v3 goes together quicker than previous DIY delta kits released by seemeCNC.
Available from these sellers
100% recommended
Owner Reviews
it is my go to machine it is always working never seems to fail and quality of the print its second to none
I have put 1,428 hours and 7.5km worth of filament through this machine in a year and a half time and no major software or mechanical issues in that time either. I have two friends, that having seen my Rostock, went out and bought their own, and both thoroughly enjoy it as well. I can say with the utmost confidence that the Rostock MAX is the best $1000 I have ever spent on a piece of tech, and have never had a doubt in my mind otherwise.
This machine was purchased during its v2 stage and I was blown away by the speed it can print at with such great quality. The new v3 looks even better and I'm excited to order the conversion kit. The build takes 2-4 good nights of work to build but it's well worth the effort and cost. If you aren't feeling a kit, they also sell them assembled!
Works well out of the box. Quality electronics. The upgrade options are available at trick laser and Seemecnc websites.
Its most important to research up grades and add them on initial build, do not wait
Pound for pound, Rostock Max is great. You get excellent print quality, large envelope, and consistency for the price. The only downside is the initial setup. The initial setup could end up an everlasting adjustment. It's quite challenging to level and perform the initial calibration for the delta arms. But note, you don't need a perfect calibration to have great prints. Nevertheless, it's a very good learning experience to the 3D industry putting together this print and setting it up. I bought it because it was the largest printer for the price, but I ended up learning a ton.
Excellent printer for an intermediate maker, great value
Great value and build area for the money, building from a kit teaches you how your printer works.
This printer has been super reliable. Bed levelling is annoying but once done it rarely needs adjusting. With an upgraded hotend the only material it has trouble with is TPU. Print speed is really fast.
it is adaptable to many material
This is a really fine machine for someone just getting started since it is reasonably priced and easy to use. It has one of the largest build volumes out there which makes it ideal for larger projects.
The rostock max is an awesome printer for the price, rhe community is great and you can easily find or design modifications. All new development are upgradeable. I would recommwnd to buy the diy kit wince you'll get to know the buildup and you will be able to apply mods and upgrades.
Great printer, very reliable, and the SeeMeCNC support team is top notch! Good build volume and great print quality make this a fantastic printer out of the box, and the wealth of community information makes it a great buy. So far ours is well over 200 days of printing time with over 100km of filament printed and it's still going strong with minimal maintenance.
Instructions to assemble it were very good. Great printer. Large volume. Maximum area difficult to figure out. Poor head heater - using resistors.
The Rostock MAX v2 is a great delta printer. Did a few changes to resolve issues - poor hot head heating using resistors, heating extruder motor, filament roll holder not matching all current roll types. Also has manual leveling. I understand that the v3 has addressed all these isues. Nice.
All in all, the best printer I know, and I own 11 printers. Also, the best 3D printer community nowadays that will help you with any trouble you have. You will be no wrong with this printer, just keep in mind you will have to build it, or pay a premium to get it ready to print.
My rostock has had a few upgrades from tricklaser and has had well over 145 days worth of print time. With almost no maintenance required other than tightening a few bolts and replacing a thermistor. Overall extremely reliable printer, prints almost all materials well except tpu after an e3d v6 hotend upgrade
Great choice for a first printer, or when you don't need critically-tight tolerances.