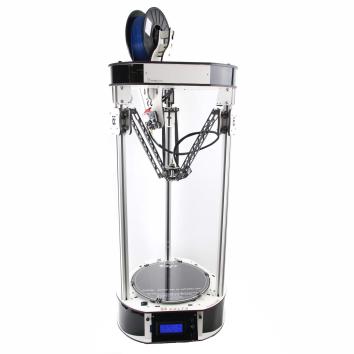 The Rostock MAX V2 features a large build volume at 19.7 x 19.7 x 38.1 cm and a resolution of 100 microns. This American made 3D printer has a large community of builders and is suitable for first time builders and enthusiasts alike. Due to its open source nature, the Rostock MAX V2 has large capacity for modifications.
Available from these sellers
Owner Reviews
The Rostock MAX V2 is a great machine. With about 20 hours of build time for the kit it's not for a beginner though.
Not for the faint of heart or beginners, this printer takes some skill to assemble. Once it's up and running, however, it is relatively easy to maintain, and produces high-quality prints!
Delta design takes a bit more work and getting used to, but can produce great prints. Exceptional customer support and community.
As with all delta printers there is a learning curve when it comes to calibration. Once that is accomplished the prints and reliability are very good.
The build directions are pretty good, you just need patience and attention to detail to get it right the first time. Most of my print issues are due to my inexperience and this being my first printer. I would love a second extruder, but worry about the calibration that would require. I have calibrated the bed once and never worried about it again, this printer has been maintenance free since initial setup.
It's American made, which offsets the costs for Canadian buyers, but the additional amount is nominal given the quality of prints and reliability of the printer. It may be difficult for non-technical people to build, calibrate, and tweak. Overall it is a solid, well built machine with a build volume vs price that can't be beat.
Awesome printer, great value. Lots of build area, though circular bed means your square build area is 7.8x7.8. great for vases/every day printing. No moving bed means very little bed leveling, though something of a bear when leveling is required. community is great, CUSTOMER SUPPORT IS AWESOME, 30 minute or less responses in some cases.
The best printer for the price, but does require some patience and tinkering
great value for the money
Good printer but just hard to calibrate well enough to remove the error at the edge of the build plate.
This printer need love and your attention. You should learn how 3D printing works BUT when it's done : 1st You learn something. 2nd this machine is a like an horse race
Absolute workhorse and offers plenty of upgradability to make it your own.
Pretty solid printer. Even when new it was a bit basic, but it's very easy to mod.
biggest bang for the buck
For a delta printer it is a quality build and has some good results after tuning and testing.