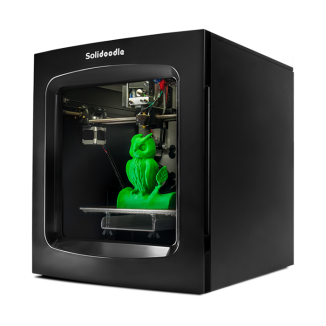 Solidoodle's newest 4th generation printer has a black powder-coated enclosure and ABS door with window to prevent the material from warping. It also features an easy-open lid for simple changing of filaments on the all-metal extruder and a new spool mount design.
100% recommended
Owner Reviews
Overall an excellent plug and play machine. Immediately requires modification of carriages changes to linear bearings and a solid glass printing bed. Once the machine is used to print new parts for itself, it is very robust, tough, reliable and accurate.
Overall a pretty solid cheap printer. Print quality is okay and requires tweaking often to keep it good. Frame is open and very sharp. I've cut myself multiple times removing a part from the bed. The printer is also a bit noisy. Need to step out of the room to take a phone call. Need to buy good filament or prints will not come out good. Overall a good printer for the cost and good value as first printer.