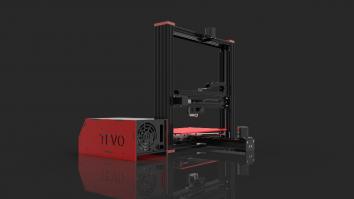 The Tevo Black Widow is a large size DIY 3D printer kit boasting a 37.5 x 25.0 x 30 cm build volume. Features include solid anodised aluminium plates, an all metal 5:1 geared extruder for continuous filament flow, heated bed, inductive sensors and a separated electronics box.This printer has gained popularity due to its simplicity and robustness.
100% recommended
Owner Reviews
Definitely not for beginners, (even though I was) because much of the accuracy and reliability comes down to how well the user assembles it. The components that come with it are good, not excellent and certainly not the cheapest components. Easy to upgrade and improve in true RepRap style.
I was bit sceptic before buying it. First surprise was when it arrived exactly 3 days after it was shipped from china, everything was well packaged, instructions lacked a bit but there's tons of materials from community to help You build it, some calibration is required especially E-steps Took about 6 hours to build and another hour to get everything checked and calibrated, first print was successful, never had failed print due to printer issues, only ones that were my mistake, overall really happy
Good to learn more about 3D printing. Big build volume.
it's got the parts you need the community or experience in building 3D printers and you learn software, mechanical, electrical skills while at it.