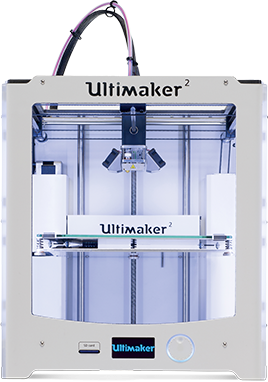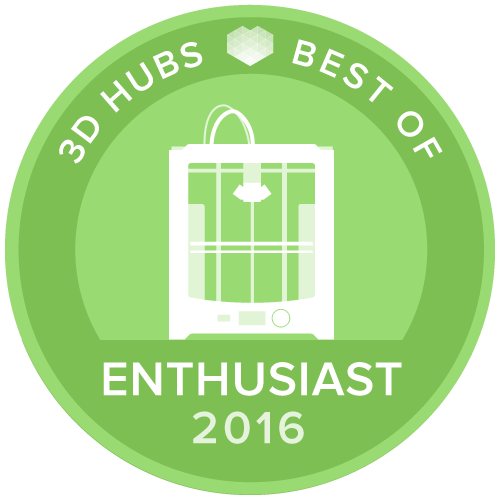 The Ultimaker 2 is a multifunctional Dutch 3D printer. It comes equipped with a heated build platform and can print at a resolution of up to 20 microns. It supports both PLA and ABS and can print at a speed of 300 mm/s.
Available from these sellers
100% recommended
Owner Reviews
Really great, reliable, low-maintenance and high-quality printer. Easy to customize and improve, iRoberti Feeder is the best upgrade imo.
Great machine, best quality I've seen for its kind
It works nice, but dialing it in is hard work. Maintenance is something to do often
it was an excellent choice but there are now better 3D printers to buy
Great prints, maybe little overpriced. Plug&play Love it
Very reliable 3D printer. Compact, fast, user friendly and robust, but above all it's a workhorse.
It is a very well made machine and very reliable although the price maybe a bit steep for some folks and it uses 2.85MM filament which is less popular than 1.75MM. Overall it is a very well made machine and will give the owner lots of good prints with little effort!
As far as FDM printers go, I don't think you can get much better than an Ultimaker. It's expensive, but worth it.
Ultimaker 2 is realy good 3d printer,and easy to use. I love my Ultimaker :) ...
Being an open source printer it is one of the best choices a starter can go with. A very active and supportive community helps move ahead faster. Good quality prints make you feel good about your work. Go ahead and have it!
Great machine for beginners!
problems with extruder, step lines over. say sometimes it happen! for machine with that price its not ok. if prints good quality is super!
My Ultimaker 2 prints 24/7. Only on the rarest of occasions will I have a print fail, and always because of a filament issue. If you want/need something that prints precisely and reliably you pay for an Ultimaker. They are expensive by comparison, but absolutely worth it.
It is a very good machine. It could be even better, but the community has solutions for just about everything if you want to fix it up yourself.
The Ultimaker is a great 3D printer. His few flaws (extruder power) were adressed by the actual model generation Ultimaker 2+ or could be solved by buying the update kit or a bondtec replacement extruder. The software (Cura) is great and the company behind the printer is constantly improving their machines (and making these improvements available to existing users). I can highly recomment the Ultimaker 2(+).
A great quality 3d printer that creates very accurate prints! The printer comes with a learning curve and you must be prepared to fully disassemble it for maintenance. Overall a very solid choice :)
Ultimate 2+ is excellent all round.
Improve feeder and insert one hotend for print media as well coem happens with some companies.
The Ultimaker 2 is pretty much the cream of the crop in its price band. The only real competitor at this level is probably the Taz 5, because Ultimaker and Aleph Objects have considerable experience behind them as well as well-developed support networks. The UM2 is very quiet in use, and looks quite sleek so this might sway you. Otherwise, it does not have that much over the other top contenders at this price. Having said that, I have heavily modded my printer (which is quite easy to do, and Ultimaker are not fussed about it, which is great) so this is both a pro and a con - I would not have to have modded my printer if it did everything I wanted it to. So, great printer, can be improved, but a fine all-round package.
I bought a second UM2 after having my first for over a year, which I think speaks volumes about my opinion of this printer. Partly this is because I could share spares and materials, but also because of the solid reliability and the fact that I know how to get very good quality prints from it. I usually get good feedback from 3D Hubs customers - especially those that have had previous 3D printing experience. Things which I will take into account when buying my next printer: 1.) Bowden makes flexible material more challenging, 2.) Enclosed build area (I enclose mine for ABS but it would be nice not to have to "make a plan", 3.) Dual Extruder- mainly for support material but of course dual colour would also be a nice-to-have.
Simple and easy to use with solid results. Needs dual extruder for support material.
Excellent machine. Highly precise with excellent build quality. Ability to change nozzles easily a game changer. Great quality of prints across range of materials.
Ultimaker 2 is a great 3D printer for reliability and quality but the demand of new features is growing. I would like to integrate a dual extruder, close frame design and auto calibration.
This printer was my first and last one so far!
Great machine, maybe a bit expensive but the quality makes it worth the money
Best 3D Printer i have ever used. I've used alot of different brands. Makerbot, BCN3D, Davinci, Zortrax etc. The Ultimaker tops all of them in all categories!
Great tool for my work and hobby
2364h printing 3603m material Never had to do anything except change the nozzle and press print!! Awesome!
It's a decent 3d printer. Lacking dual extruder though, but since it's open source you can modify that!
I have 2 3D printers, an Ultimaker 2 with the plus upgrade kit on it and an Leapfrog Creatr HS. But I will definitely prefer the Ultimaker far above the Leapfrog by reason of the quality of prints, easy usage, community, noise level and material switching.
A very reliable printer that produces very high qality output. Fitted with the Olsson Block the interchangeable nozzle make this a printer that's suitable for every size of print from the very large down to the very detailed. It's not the cheapest printer out there but it's definitely value for money
Excellent printer, speed quality always very satisfied
Great printer, never lets me down!
best decision I have made, its great
Its great, I have it running 4 two years without any problems. The printer has been running almost every day so this is telling about the reliability. I just bought myself a second one to expand my business
It's a great, reliable machine. Wouldn't want to miss it!
great Machine that has not failed on me in the 2 years I've owned it, I just ordered a 2nd one to expand my business,
I am consistently pleased with the quality of the prints from my Ultimaker 2, even over a year out with little maintenance it produces great results. It is a touch more expensive than some comparable printers but the quality, build area and ease of use justify the price.
I'd buy it again and again, enough said.
I have 4 Ultimaker 2 printers. They are reliable, expendable and built to last
A great printer, reliable - decent quality and a great community.
Amazing machine, always reliable, easy to use and create always really good quality print
I have only had two issues with the printer in 3 years of ownership. Both I was able to fix myself (medium skill level) with help from the community. I also fitted the olssen block to enable fast nozzle changes... brilliant! (and now standard on new units!)
i have seen the new ultimaker 2+ and there is some small modification cleaver i would like
Easy to handle, user friendly printer for beginners and intermediates! Would be the perfect printer with an good working dual extruder.
Works straight out of the box. Is easy to use and maintain. Looks cool and is a big hit with children in schools.
Best FFF desktop 3D printer.
An excellent printer which provides excellent value, though at a price. However, no longer in production, get the 2+ now.
Since I installed the UM 2+ upgrade kit, everything has changed. No problem any more !
does what it is advertised with. A good first printer to step into the world of 3D printing, but also suitable for experienced printers due to the quality the printer can reach.
There are 3 things I modify on all my UM2's; 1.Install a Bondtech feeder 2.Install a closed build chamber. 3. Exchange glad plate for a machined aluminium plate with builttak I've got 5 machines in total currently
Eager to test the new version with dual extruder
Overall quality is good, but there is a difference between the Ultimaker 2 and the Ultimaker 2+. Upgrading to a 2+ is expensive
Perfect product, it is a pitty that a dual extruder us nit available
It's a high quality reliable machine that is likely the most robustly build printer on the market.
easy to use with there capacity
A buggy machine that will hopefully get a more reliable successor in the next days.
Very nice piece of design. It is not hard repair printer if is broken. But no automatic calibration, dual extrustions and expensive upgrades means that I won't buy next model. Sorry.
very good printer, the only problem is the boden extruder when you live in a humid area.
Great printer once you upgrade the feeder. 3mm filament can be bought dirt cheap in multiple sources. A great budget printer if you print a lot. Initial cost is quite high though.
Great printer and very solid if you can afford it. Easy to upgrade and lots of possible upgrades in the community. Open both software and hardware.
Perfect machine but out of date. Reliabel
Great 3D printer. A bit slower than Ultimaker Original, but way better for total beginers (who do not want to build/assembly 3D printer).
The ultimaker 2 is a very good printer. Easy to use and great quality.
Good dependable printer, starting to show it's age feature wise.
Very good printer, in the top 2 of its price bracket
Ultimakers might be considerably more expensive than other filament-based 3D printers, but they are definitely worth it, in my opinion. They are solidly built, reliable, precise machines that can achieve the highest quality prints when used properly. I have a few other cheaper printers, but I always go to my Ultimaker when I want the best possible prints.
no comment its "very" good
My second best FDM 3D printer !
Great printer! pleanty of upgrades on the market, alwas reliable.
It's an awesome printer but you need to deal with the feeder/ retraction settings to avoid underextrusion or upgrade it to Bondtech extruder to be happy with
Ultimaker 2 is a very nice reliable tool to make things. It already runs for 6287 our. The software makes it possible to do a lot of different tweaks to make expert prints and to adjust every print as you need. Printing itself is a bit slow especially if you go for a nice detailed finish. In the beginning I did some updates, for nozzle exchange and more reliable extrusion(like the Ultimaker 2+ has now). And now I am very happy with it.
The Ultimaker is a great printer for everyone. It is easy to use and it got an easy setup. The software is improving with every update. But the hot end and the feeder aren't very good
great, but way too expensive