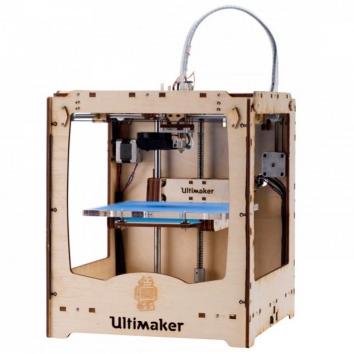 First released as a kit in 2011, the Ultimaker Original is one of the oldest desktop 3D printers. It can print files unto 21 x 21 x 20.5 cm. at a maximum resolution of 20 microns. An active community is there to support you in case you seek advice or modifications.
Available from these sellers
100% recommended
Owner Reviews
It's super printer. No issues, quiet and really fast. It makes it possible, to use 0.1mm layer prints in same time, others makes on 0.2.
Veery nice design very stable!
Very high quality and great reliability
A machine very nice to tinker around with it.
Great little printer that has lasted a long time and still produces top quality parts.
It is a good printer that has some issues with Extrusion
This is one of the best machines if you are starting with 3D printing and want to occassionally use it. It has a lifespan of about 4-5 years after which you need to keep replacing, fixing and maintaining to keep it running.
It's a very good 3D printer, a lot of options. There's a lot of informations available online at the community.
While Ultimaker 2, 2+ and 3, are not so affordable, Ultimaker Original is. Printing quality is even better, while printing goes faster. It's DIY, so it helps understand how 3D printers do work. Best printer in our workshop.
Good printer for beginners especially the DiY kit. Because you build it your self you get a good understanding of how the machine works. The print quality is very good for the price of €1.100,-. The biggest downside for me is that when I switch between ABS and PLA the nozzle often clogs and replacing the nozzle takes allot of work. So I only print in PLA.
A solid kit which allows you to easily enter the 3d printing world without huge hickups.