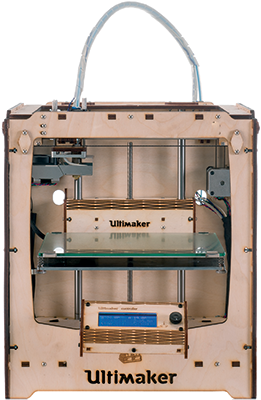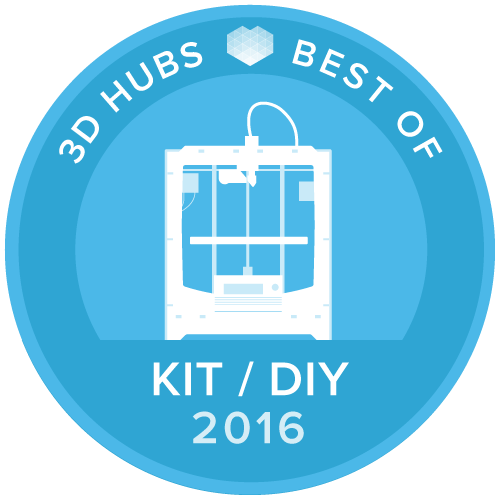 First released as a kit in 2011, the Ultimaker Original is one of the oldest desktop 3D printers. The Original+ is an upgraded version, which includes the Ultimaker 2's heated build platform. It can print files unto 21 x 21 x 20.5 cm. at a maximum resolution of 20 microns. An active community is there to support you in case you seek advice or modifications.
Available from these sellers
99% recommended
Owner Reviews
Great machine, easy mantenance. The quality is very good and realiable. However, it is most suitable for people that like to do some manual adjustments (e.g. Fine tuning and bed leveling).
The UMO+ is a easy-to-use DIY machine with excelent printing quality. Sadly Ultimaker doesn't support this printer as good as it's other products.
Beautiful piece of work, works very well under most conditions. To build precise objects or to print high speed drafts, it hits the mark. Only objection would be the lack of nozzle swapping
A professional printer for less than a professional price.
Great Printer to start with. Had great printing quality in the beginning but starts to fall apart now. Open source and great community but needs still a lot of knowledge abut electronics etc.
Fantastic machine - still competes with some of the newer models out there even though the design is 5 years old
Great machine, needs a bit of learning and tuning but then the 3D printing world is yours :)
A lot of work to put it together but not all that difficult, just takes time. Easy to get printing initially, however as with most 3D printers, it's difficult to master.
I love this printer, it was the first I bought (as a UMO, not a UMO+) and I've run it continually for over 3 years now. I love being able to mod it, change hot ends, upgrade and learn with it. I use it for all my more exotic materials, having added (at times) dual printing, an E3D hot end, and other bits and pieces. It's been crazy reliable and still produces prints that are as good quality as my UM2+.
Always the same pleasure of seeing 'the magic' operate with this reliable and robust printer. And still beautiful after 18 months of use. Ultimaker ... an experience !
The UMO+ kit is well packaged and the assembly instructions are well written. If you are comfortable with hand tools and can set aside a couple of days to assemble it, you can have a high quality printer at about half the cost of equivalent plug-and-play units. Print quality is excellent, and it is supported by a very active online community. Highly recommended!
Great product for the money
Perfect printer if you like to maintance yourself
I have ultimaker original, not original plus.
A good 3D printer but requires patience in order to get the best results.
Its the volvo of printers
Very nice printer, takes forever for big prints.
The wooden construction may not be that contemporary anymore, but the solid motion platform and driver board, continued improvements in Cura and overall solid performance keep it a relevant printer.
Beautiful machine. If well assembled, very robust and reliable. If not, then requires occasional tightening and adjusting. Very upgradable with helpful community
Great machine but dated. Works perfect with PLA
Stil a going Strong volkswagen of the printers
Easy to use printer, with descend print quality
The UMO is an amazing printer. In a kit form you learn heaps about how a printer works, how to maintain it and how to repair it. Print quality and speed are great, tie it to Octoprint and Cura and you've got a great unattended print platform.
After si many years of service it still works like a charm. Great printer that can compete with newer ones without fear.
Great value for money! Amazing entry level printer