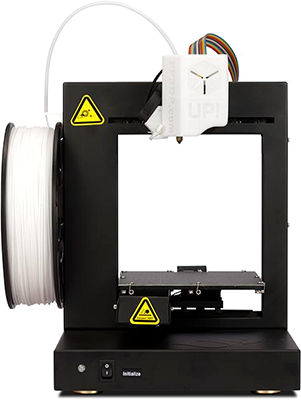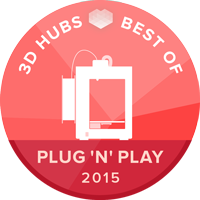 A small, reasonably priced 3D printer that offers an out-of-the-box printing solution. It can print ABS and its heated build platform adjusts automatically. The build platform has a volume of 14 x 14 x 13.5 cm and it can print at a layer height of 150 microns. It is known as the Afinia H480 in the US.
Available from these sellers
100% recommended
Owner Reviews
Nice closed source printer. Good for educational purposes. Students can priny within 15 minutes of instruction. Quality is, compared with same priced printers, good.
Very good machine, easy too use.
The Up Plus 2 is a reliable printer that produces excellent quality prints without a lot of tinkering. The build quality is top notch, but the closed source software is now way behind other options that have come out, and getting worse with recent updates. In the two years I've had it, I've outgrown its tiny build volume.
Very efficient 3d printer. The up plus 2 is really plugnplay. The software is easy to use, in fact so easy that some basic options are not available. Platform is also a bit small. For every thing else, I'm happy with my Up
Great printer, its nice and rugged. It also has a nice steady buildplate but it lacks the features to use exotic printing materials/special settings in the software
Great piece of kit, just keeps going, great print quality and running costs
It's the best 3D Printer you can buy!!!
really easy to use out of the box. It is good for ABS printing and is reliable and accurate. Up2 can print complex 3d shapes easily.
Support software is great!
I didnt like it at the beginning because it wasnt really working with other materials than theirs but after tweaking it works great. Software was big con but aftet couple of months some chinese guys created new and better soft. Their customer support increased and also community. Printer is amazing for mainly beginners
It's a reliable nice machine which works smoothly.
Прекрасный принтер. Идеальный баланс цена/качество.
Good printer. Accurate and strong parts.
I love it. My first one, so no comparison. But very happy.
It is a very good printer, easy to use and with a good quality.
Super easy to use but the downside is that you cant alter the themp or speed of the extruder.
Support calculation is good and easy to remove.
3D UP Plus 2 is a very easy to use printer. Thé main défaut is the size of the printing.
It's a fairly expensive machine, but it handles difficult materials like ABS and polycarbonate like a pro. Only downside is the small build area.
It's a reliable work horse, worth the investment
UP plus 2 with its sleek looks and simple build, its amazing for someone who needs to quickly move around with 3D Printers. Whereas, because of its open chamber, its relatively bad with ABS prints.
The UP Plus2 is an extremely reliable and a quality built printer. With it's metal frame, compact foot print on a work table, heated build plate and easy to use UP Studio software, this printer has been a high value winner for years. Add on the available CPU upgrade from UP, and users can enable WiFi connectivity as well as well as Blackout Recovery to be able to resume prints after a loss of power.