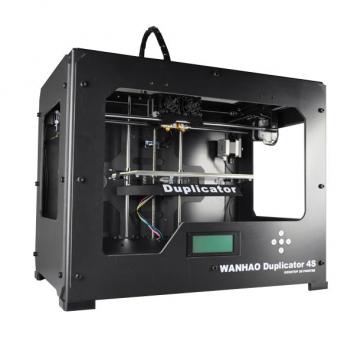 The Wanhao Duplicator 4S is an FDM printer with a build volume of 22.5 x 14.5 x 15 cm. It has a dual extruder that can print two build materials such as ABS, PLA and other filaments or it can use dissolvable support material such as PLA to print . The Wanhao can reach 100-500 microns layer height.
100% recommended
Owner Reviews
It is my first printer. Great for teaching how to print.
Great printer but it takes some patience. Luckily the support is there in customer service.
Steel frame, stays put mostly, throws extruders every once in a while.
Very good if you use better software. Simplify3D for example.
A good first time experience, out of the box, leveled the bed and printed something right away...
It's a good machine for someone with some technical background. For the price, it's well built. The software it comes with isn't all that great. Adding good software increases the price.