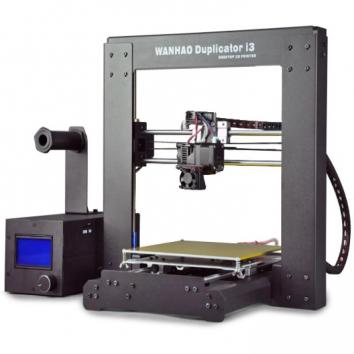 The Duplicator I3 is Wanhao's take on the very popular Reprap Prusa i3. The entire frame is made from metal making it a strong and stable printer. It has a build volume of 20 x 20 x 40 cm and a minium z resolution of 100 microns.
100% recommended
Owner Reviews
This was my first printer. Printed well immediately however there are easy upgrades like the Z-Braces which really make it better. The Flexion extruder for this printer is a worth while investment.
I think it is great value for the money, it is built pretty cheaply, and I have replaced a bunch of parts, notably the bearings because they were so cheap. I would recommend this printer for beginners getting their feet wet, or even experts looking for a good backup printer.
I have the V1, and let's just say, that it probably wasn't hard to find improvement opertunities. The later printers from Wanhao seem a lot better.
The Wanhao Duplicator i3 is a great budget printer for home use as well as for product design. You need some knowlage of assembling the printer, but when you got it up and running it is easy to use. I'm using it with a Raspbarry pi running Octoprint, and it is realy easy to start prints from any computer.
Great printer for a great price. I've never has a problem with mine. Plus it's easily upgradeable with lots of support through the community
The wanhao duplicator i3 V2 is a good printer for its price, if some modifications are done, like the z-brazes, the quality of the prints is much better due to the more stabile gantry. As well as some other modifications, there is a great community around this printer.
The Wanhao surprised me as a modular, robust, and high value 3D printer. The very active modding community for the printer as well as the different third party solutions provide a myriad of solutions to go and upgrade your system to give it additional value beyond the initial $400 you purchased it for. The one year warranty from Wanhao, and the simplicity of the way the device is put together is very reassuring when having to deal with things like repair and upgrades. For the price point of $400, the 100 micron resolution, and the active community behind these products; I can't recommend this printer enough.
The Duplicator i3 is really an excellent printer. It works well out of the box and, while it may not blow your mind with the stock setup, its Open Source design and large, active community make modifications easy and cheap. I've added less than a third of the modifications I'd like to and my printer already performs better than machines that cost two to three times as much.
The Wanhao i3 (v.2.0 and 2.1) has much value for its cost. It is not a plug and play machine, and requires a bit of patience and skill (or willingness to learn) to tweak and modify properly. However, once adjusted and properly modded, you can produce prints with quality that matches or surpasses more expensive printers (even with the cost of mods factored in). Customer support is average, but is supplemented by an excellent and lively community that is ready to improve everyone's experience with the printer.
Very good printer for the price you pay. Wiring design around the fan/motor/extruder could be improved as the wires have no play and tight. My first prints were the suggested MODS like thumb screws for table adjustment. I love this printer (for startup)!!!
Great value printer that requires minimal maintenance once it is dialled in. Then it's a breeze. Calibrate it well and it will treat you well.
Very good printer for the money
Great printer until something wears out. Easy enough to find parts but screws holding everything together strip out too easily and once something is loose it takes a lot of patience to figure out why it's not printing properly
Prints good out of the box, and with a few modifications and a little tinkering, it is comparable to much more expensive machine.
Great value, and easy to correct the few minor shortcomings it has. It takes a little bit of effort to get calibrated, and there are a couple of simple, printable mods that I would consider the last mile between a good and great quality machine, however, calibrated and properly set up, this can be a very reliable, high-quality machine.
I love this printer. Best value for the money. A bit of a learning curve, but if you are patient, it's easy enough to figure out.
It's a pretty good printer out of the box, and a few inexpensive mods make it great, especially for the money
***This review is for the very first version of the Wanhao Duplicator i3*** This is a fair machine out of the box. It will work, but not up to its potential. That takes some tweaking and upgrading. Once done though, for the price, it's tough to beat the print quality. If you are mechanically inclined and really want to get into the world of 3d printing, this is a good beginner printer because of the tweaks and upgrades required to make it great. You will learn a lot. If you want excellence from a plug and play at this price, you won't find it. Spend a few hundred more and you may find it. This is a machine for learning the technology and practice of 3d printing.
The Wanhao i3 is the most affordable 3D printer that has a heated bed, metal frame, and 200x200mm build area.
Good cheap printer for getting started
I love my i3. For the price, you can't beat it. The community is large and helpful, which also means there are loads of easy mods available. With just a few prints and a couple dollars here and there for nuts and bolts, I upgraded what was already a great printer for the price to a finely tuned machine that cranks out quality print after quality print. Definitely a good starter machine, and one that I'll keep around for as long as it keeps running.
The Duplicator i3 is a great budget 3D printer. It requires a bit of patience and a handful of modifications to work reliably, but once modded, it reliably produces amazing prints that rival more expensive 3D printers. My only real complaint is its noise level, and inability to print high temp materials such as polycarbonate (needs very extensive modding).
I will probably buy a second one
Good print quality out of the box, though mods are required to produce "better" quality and reliability prints. The community is amazing and responsive. Buyers will not regret purchase!