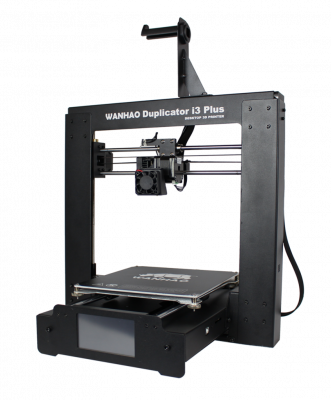 Wanhao Duplicator i3 PLUS
The Duplicator I3 PLus is a revised edition of the Duplicator I3 which is Wanhao's take on the very popular Reprap Prusa i3. The main difference is that the seperate control box has been replaced for a convenient touchscreen on the front of the 3D printer. The entire frame is made from metal making it a strong and stable printer. It has a build volume of 20 x 20 x 40 cm and a minium z resolution of 100 microns.
Available from these sellers
100% recommended
Owner Reviews
A great beginner printer, doesn't need a lot of assembling and get's you printing fast while leaving you the option to tinker and modify the printer.
Great printer for the money and i diffenetlly want to se more upgraded d i3 in near future
Great entry level printer.
Its been a great printer it just had a few parts that i have not been able to get in to fix.
I own more printers and 2 of them are I3 plus. I am really satisfied with this machine, and it has a really good price
Probably the best printer in this price range. Good print, easy to maintain.
It's a great learning machine! It sometimes requires some maintenance, which makes you learn more about the machine. And other times, it gives you amazing and reliable prints! It's truly amazing, I love it.
Excellent value, good design and a solid starting point for modifications, which nonetheless has some problems. The stock machine printed OK, with reasonable quality and precision, but occasionally jammed, wasn't perfectly calibrated, and had issues with asymmetric part cooling. After calibration, and some inexpensive upgrades, my printer is now a precise and reliable workhorse.