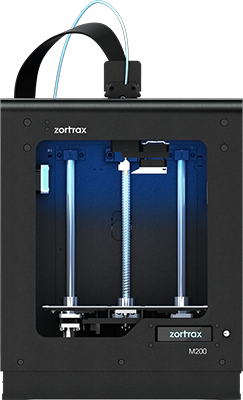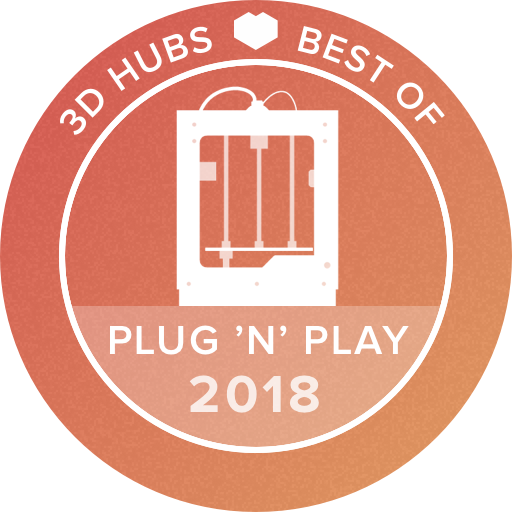 The Zortrax M200 started out as a Kickstart project in 2013 and soon became famous when Dell ordered 5000 units during its funding phase. Made from sturdy aluminum, the M200 is capable of printing straight out of the box with very little setup. Thanks to an automated platform leveling system, calibrating is precise and easy. With a 200 x 200 x 185 mm build area that includes a perforated build platform for mitigating the material's tendency to warp, the printer is optimized for those who wish to print with ABS.
100% recommended
Owner Reviews
Great printer with great print quality. But for long run need to be lucky with parts given by Zortrax. Most frustrating part is extruder cable.
EASY, PRECISE GOOD FOR WORK AND LEARN!
I visited a ton of places both online and also in shop too. for the budget of sub £3k this is the choice I made and am very happy with that choice
After the searching phase of our 3D printers we have decided to buy Zortrax M200s, due to promising features and easy software solutions. There are several points in the software which help us to avoid printing problems and gives feedback also about the estimated price of the products. The printers are really running well. We take care of periodic maintenance of the head and table, so after almost one year there is no any spare parts or repair issue.
I've had almost all the commercial 3D printers in range from 400 to 20000€ on the market untile 2016, and i thing that M200 is the best one till now.
Overall it's a great printer. Well build, reliable and almost plug and plug. A big downside is it's not compatible with 3rd party filaments due to it's propriety software (there are hacks though). In return slicing comes down just to choosing appropriate filament profile, res, and some basic option and you are ready to print. M200 was a great printer 3D printer 1-2 years ago. I think that today you can find cheaper comparable options.
Superb. I've owned this printer since September 2014. I'd say it's had two weeks downtime in all that time. The rest of the time, it's printing. It's built like a tank and just works. Print failures are incredibly rare, and entirely down to my own errors such as running out of filament.
The Zortrax M200 is one of the best Plug and Play machines out there. The quality is great out of the box and it is so reliable you can run 20+ hour prints without any problems. Because the materials are proprietary, many argue that the filaments are expensive. I find this to be a not the case considering the quality and consistency of the filament that Zortrax offers. Those who own an open source printer including myself know that the quality of filaments on the market varies widely and many hours of tinkering is needed to get the perfect print. Zortrax just works from the first print onwards, which is why it is able to hold its reputation.
It's my favorite FDM printer on the market. The best ABS print quality for closed environment based system.
Great value,probably the best printer in 2016.Beated only by her sister M300. Maybe mid/high printing cost, due to proprietary filament (30/40%+ cost).But NEVER failed a print (and it's because of high quality filaments too ;) )Remember to make ordinary maintenance and you're done!
Zortrax has complete control over their eco system, but it is a well polished machine. Very easy to use and very reliable.
The most reliable machine for prosumers. It works every time I use it.
The printer is a very powerful machine, perfect service and through reseller Zortrax same. The printer worth what it costs, but is shown to users with advanced knowledge and not for beginners users
an incredibly reliable, durable and flexible if you look at the Z temp upgrade
Reliable and reasonable costs
It is nearly bullet proof. You start a print and shure it will be done the next day. The XY-axis have a amazing precision. Never see those xy-axis precision on other fdm printers.
I'm sure there are better products on the market since Zortrax released the M200. That's normal don't you think. It is still one of the best in his class and a good FDM printer. If I may say something in general about FDM printers, the quality off the printers is not changed a lot the last few years. But the new customers get more features for the same amount of money like webcam, safety enhancements, etc...Above all if you really want to explore the world of 3D printing but are not sure if it could bring you some goods. Then I think the M200 is really a bargain if you want to use it for semi professional tasks.
Great printer for a hobbyist or a low volume user. However, I wouldn't recommend for someone wanting to print a large amount.
The printer itself is quite perfect: easy to use and very precise. The only downside is the software which is not available on LINUX, and has some strange behavior (for ex. XYZ resizing axis are not the printer axis but the part ones; So once many parts are added and rotated in different ways, it is quite impossible to make a very precise calibration of the printer)... Anyway I would give a 19/20 quote to the M200 ;-)
Great printer, high price.
It's a great machine for what it does. It's easy to use and reliable using the proprietary filaments. But warping is an issue for larger prints, even with Z-ultra and Z-HIPS etc. The biggest downside is its non-support of PLA. Even with a Ztemp controller, I still haven't had satisfying prints in PLA.
Highly recommend Zortrax. Super reliable. Amazing print quality. My one was nearly 2 years old when it had a few issues which were super easy (and inexpensive) to replace.
The Zortrax M200 is the cutting edge LPD printer in the market for the price they offer. This printer is perfecto to entrepreneurs and to began a studio design business. Minimal breakdowns and incredible quality print over print. 99% Recommendable!
Zortrax M200 is very reliable, but you can not control the printing option freely.
All around great 3D printer.
Great anyone who wants to have quality and ease of use. Excellent for prototypning.
I was a bit sceptic before I bought it, but it turned out to be an awesome printer!!
M200 is the best printer on a market based on our 3D printig company's experiences.
Zortrax M200 is the best fdm 3d printer. Perfect price and professional quality right to your desk
Really reliable printer, cheaper running cost. Amazing support. Great software evolution.
We chose M200 for our 3D printing studio. We have seven M200 printers in our shop and constantly print with them. Maintenance and setting up is very straight forward and hassle free. We owe our success to M200.
I'm satisfied with my machine; the community gets bigger and bigger, the team seems to be constantly developing improvements and the print quality is excellent for the price. More than one year later, I'm still proudly faithful to Zortrax ;)
Best desktop 3D printer. Period.
Rock solid. Prints almost always come out great (I would say less than 1 in 25 prints have any issue), reasonable material cost (1/5 th the cost of SLA printers), ZUltrat material is strong and looks great, print quality is excellent.
I am very happy with this printer it works almost flawless and makes really good prints.
In my opinion one of the best desktop printers of its kind in the world. Very reliable, great print quality and precision. Only downside, it's a little noisier than advertised.
By far the best FDM desktop printer I have come across. You just cannot compare with the quality print it delivers. If they had PLA I would replace all my printers with Zortrax machines.
Reliable, precise and well built printer. I have no major complaints about it.
best 3d plastic printer I have used
I have 3 Zortrax M200 printers now after having owned a reprap in 2011 and a formlabs in 2015. This is by far the best printer I have: easy to use and very reliable. Some orders I get on 3dhubs are in fact from other printer owners who were just looking for a good print. Only downside is that there is nothing to manage more than 1 printer. It´s so closed it´s difficult to hack. For example I would like the printer to stop automatically when the filament is out.
Zortrax M200 always meets my expectations. The only thing I miss is the dual extruder. Just to by Zortrax Inventure.......
Very good printer ABS plastic filament. very reliable : 120 hours printing non-stop running .... never any problems. I have to buy a second M200 and expected to acquire the Zortrax 300. It is even possible to use plastic filament Standard
Excellent value for price
Zortrax supports very well.
When you ask for a print, you get the print.
After more than a year of continuously using 3 Zortrax M200's, I would struggle to recommend another machine in it's class. It just works - again and again and again.
Its a great printer, but I do not like that is close source.
The machine simply creates excellent prints with no hassle. Materials a somewhat limited, not very modifiable or upgradable. But for reliability and excellent print quality, it is hard to beat.
let's not mess around is simple, reliable and easy to use, rarely messes up a print and prints beautifully. No-one likes a closed ecosystem, but if you just want to start printing, the zortrax is definitely the one.
Easy to use, value for money printing quality
I think Zortrax M200 is a good 3D printer
Good value for money. Simple and reliable and just works out of the box.
its a great a fdm printer for professionals.
Great 3D printer with some quirks that can be annoying but do not affect the overall performance and validity of the product.
Great machine with Good quality, can have a few issues but is great overall.
Slicing tool z-suite adds unnecessary supports
Wish to had the same 3D printer on PLA
Overall it's a great printer, not as much plug and play as they like to advertise it but not complicated to set up. There are couple of minor design fails, like wobbly spool holder they provide and filament guides that you would immediately switch for third party ones. I feel like being ripped off on ufilaments, they are pricey and as far as I know, zortrax doubled their prices over night at some point. Software is ok but could be open source/use commonly recognized files. They are constantly working on it and the reaction to user feedback is really good. Anyway, it's a good printer if you want minimal amount of settings fiddling and just want your prints done.
Great reliable printer, perfect for ABS and similar
A printer with Industrial printer quality but an commercial printer price. This printer blown my mind and is one of my favorate.
Very nice printer with a way to the up
If somebody know the limmitation of this printer than it is a best choice
It is a good printer. Gives a clean accurate finish and Zortrax support is efficient. No FDM printer will give a better finish than Zortrax Being limited to plug and play options is disappointing. I have had a lot of issues with both my Zortrax printers relating to failed parts and prices are extremely expensive for parts and material.. For a nozzle ZAR525 (US35) Why has the 0.3mm Nozzle never been released!!!
For me the Zortrax M200 is a satisfying printer, which met and still meets my expectations most of the time. It is reliable and nearly needs no maintenance. So I would recommend it to everybody who needs a "work horse" and don't want to figure out adjustments for every print. With the Zortrax materials everything works fine and if you use the unofficial upgrade Z-Temp, you can try nearly all available materials on the market, except rubber-like materials like Ninjaflex. Therefore the extruder doesn't work properly. The slicing software is easy to use and there are improvements made from time to time. They do not work in every case and sometimes make the print quality worse, but they fix that immediately, if the community is complaining about problems. In my opinion this printer is worth its price and I'm still happy that I've chosen that one.
It's a good printer. Ideal for starting to begin a Maker
great printer wish I had waited and bought the dual extruder one instead.
Go for Zortrax, if you wish to print in the best quality instead of play with the printer hardware or settings. Reliable and best quality you can achieve from desktop printer. It also enables to use materials as ABS or HIPS which are recyclable, harmless, suitable for food (cups, tableware), easy to smooth / post-process (sand, putty and paint), instead PLA which does not meet any just a bit cheaper price. Make sure you buy the side covers and do not forget about regular maintenance. p.s.: smell of burning ABS is just a joke.
Many materials tend to bend when printing big.
Best 3D printer ever. Not many 3D pinters can achieve that quality and reliability combined with speed
I love the M200, for me it still is the best printer around. I would like to have more different materials available though.
This was my second printer, it has great quality and rarely has a failed print. Good all around but a bit pricey.
It´s a plug and play printer that you are guarantee that the file introduced is going to come out as needed. We have had it for 13months and it has printed 24/7 for several months and had no issues. Best printer on it´s category.
A superb machine - ours is 3 years old and works as perfectly as the day we got it. It's a true workhorse, and one of the few printers we'd describe as plug and play
It is still one of the best plug and play machines out there.
We have started to use Zortrax M200 since the beginning of our 3D printing activity. It was a great choice and nice to see the continuous improvement on it. We have new types of printer and much more filaments, even non-Zortrax material. The software has been improved a lot and give us great help in the daily job. Ideal for ABS printing and small production as well. This is the reason that we are using more M200 in our workshop.
It's just as good as it seems. No tricks. 100% affordable and 100% worth it!
always the best 3D printer!
The best printer in my workspace.
is a good mechanical printer. well done and solid. Maximum repeatability of prints and minimum error
The best 3d printer in the world. I definitely love the quality!
A nice non expensive printer that sometimes reaches the quality of Stratasys printer.
Really great printer, doesn't do great with large flat things but is great for everything else. Really easy software a 4 year old could use it.
The best FDM/FFF 3D printer out there. Exceptional reliability and quality for the price. Best value!
Well built machine. Good print quality and accuracy. Does not handle overhangs as well as some other printers. Build platform does not work as well as it should leading to larger prints warping/lifting during print.
In all together M200 is the best desktop 3d printer
Rock solid reliable design held back by slow print speed
On of the best printer on budget
It's been more than 2 years and I'm still happy to recommend my faithful Zortrax. Whenever I needed a spare part it was available for me to purchase, which is just awesome, and they opened their machines to non Zortrax materials recently, apart from having an amazing software and print quality, so totally woth it.
I believe the M200 to be an excellent machine with great build quality which also reflect in the flawless prints it produces. It's easy to use, very reliable and overall a very satisfactory experience to work with. One thing to keep in mind though is that if you're set to build intricate details on your models then expect some struggle with removing supports (at least for some Z-materials).
Excellent machine. Best when used with Zortrax materials. Not many options for the tinkerer. But for someone that needs the machine to just print, the M200 works reliably and consistently.
It's a very good 3D printer
One of the greatest 3d printer i ever use !
I felt in love once I got the first print out.
Rock solid. Still going strong after 1500+ hours of printing.
I have had this lrinter for a while now, and i must say i have had zero bad prints with it. It is the most reliable printer i've had... Great build quality and since a few months it prints with non zortrax filaments! A+++
This machine chained my mind about what could be achieved with FDM, its Great!
Zortrax m200 is a very good 3d printer with some imperfections such the software for Mac, the control of the supports ( I'm not yet an expert, so maybe I'm wrong), there is no possibility to change the extruder for example to use plastic with metal inside.
Its been a great and reliable machine, in fact it is my go to machine.... The only real down sides is the lack of dual extrusion or the ability to print soft filament
Print surface quality is very good with properly designed geometry. Customer service (via reseller) is very poor. The printer motherboard broke during the warranty period and it took a few months to have it fixed by the reseller and I was still charged hundreds of dollars for it.
Machine of good quality. Exact. It does not require daily maintenance. Double extruder missing and compatibility with third party software
The best 3D printer I have ever had: it's amazing!