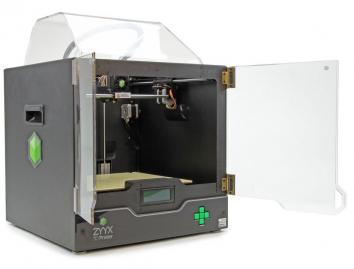 Swedish 3D printer ZYYX is a marketed as a "fume free 3D printer", due to the completely enclosed build chamber with an active air filter that absorbs the bad smells some materials emit while printing. Another unique feature of the ZYYX is it's build plate calibration system, which is fully automatic: a sensor on the print head probes 3 dedicated spots on the build plate to calculate it's angle.
Available from these sellers
100% recommended
Owner Reviews
Very good printer, speed and quality is good. Works with nearly every kind of filaments (but for the ones really really needing a heated bed). Got one problem with an loose axe but got it solved with support and community here on talks forums really quickly.
Helt klart bästa svenska 3D skrivaren på den svenska marknade.
Very easy to use machine with many material options like PLA, Flexible, PET(G), HIPS, PC(small parts) etc. Not great with big ABS prints.
It is a good printer cheap but not diy cheap more like cheaperthan ultimaker or makerbot. But still just as good.