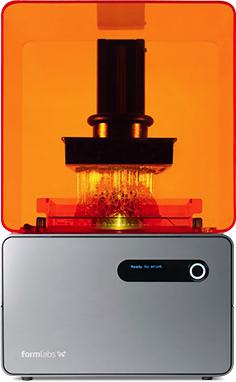 Formlabs introduced the first desktop resin 3D printer in 2012 with the launch of the original Form 1 on Kickstarter. The Form 1+ came soon after, with refined components. Among others, these included a faster and more powerful laser for curing liquid resin through the stereolithography additive manufacturing process. The resulting prints that come off of the Form 1+ have consistently been among the highest quality objects to come off of any desktop 3D printer.
Available from these sellers
100% recommended
Owner Reviews
Outstanding print quality and customer service. However consumables can be expensive.
I can't say enough great things about this printer and Formlabs as a company! Top notch customer service and an awesome product!
The Form1+ is a great printer when it wants to be. There are inconsistencies in output/print quality that limit the praise I can give it, but ultimately I would recommend this printer.
Very good printer, ... I realize alot of prints for different cutomers, ..... all depends on the enverugure parts, especially for larger objects, the failure rate ..... printing increases with the large size of objects, but ...... this printer feats accomplished. It takes the Standard resin. The user is free to choose resins and it is good for it. Maintenance is simple, once including cleaning mirrors for laser printing The form 2 corrects the defects of the Form 1+
The Form1+ produces great prints as long as you keep the optics clean. Larger prints may fail if you take not enough care regarding the print oriantation.
Extremely great print quality when the print doesn't fail. It fails quite often. One needs to be very careful for the details when operating it. Excellent for small, precise parts, not good for larger parts. Expensive material. Not really suitable for making money, more for prototyping.
Form 1+ is one of the best printer i have ever had, one of the problem is Material are expensive compare with ABS and color are limited to 4 or 5 options. If you clean up the printer material after each print and before next print very good you can get the perfect result.
bonne machine mais son plateau est vite petit
Great quality prints for a relatively low price. Materials are expensive and perishable. Resins and printer need careful handling.
My fisrt proper printer professional And wel engeneere
Running costs are high for the Materials, other than that you need specific Alcohol to dry the prints.
Very precise tool when you know how to operate it. Its not cheap or easy to operate, but once you get to know it, you can produce some really detailed products. I wish FormLabs made the newest resins (for Form 2) available to Form1+ owners.
This machine has a little smaller build volume compared to the Form 2. It prints nice and is easier to use non-formlabs materials.
The material costs a lot and you can only use it for 1 year. But besides that, it is a good printer.
GOOD, BUT RESIN IS A LITTLE COMPLICATED TO USE
Amazing print quality but post processing is a messy and very time consuming task. After cleaning the model the dents left by the supports need to be filled, UV cured and sanded.
Excellent consumer grade SLA!
The Form 1+ can print objects few other non-professional printers are capable of producing. The surface quality of Form 1+ prints is also exceptionally good. However, the resin used in the printer is very expensive making running costs very high. The printer also requires constant maintenance, with some maintenance steps needing to be completed after every print.
Expensive to Run.. Sometimes unreliable. Other then that a very special Machine.
Running a Form 1+ is very expensive and a really dedicated job. There are thousands of reasons that would cause a failed print and consequently damage the tanks or resins.
Fine quality of the prints. Never would work without this printer option.