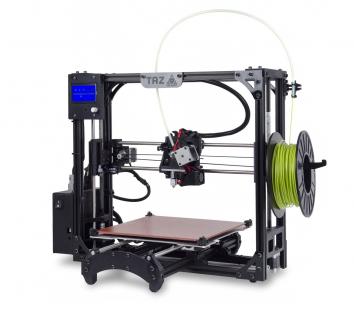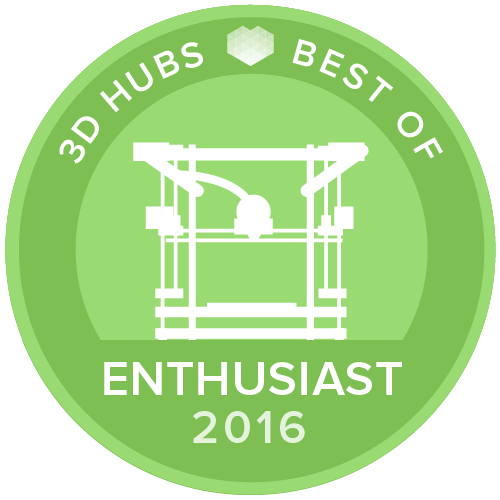 The Lulzbot Taz 5 is an open source 3D printer for the tinkerer. It comes with a metal frame, heated build platform and has an exchangeable extruder system. Due to its active community many customizations are available online. It supports materials like PLA, ABS, HIPS, Ninja Flex and many more.
Available from these sellers
97% recommended
Owner Reviews
Incredible machine. I have literally never had an issue with it. It is reliable as can be, and produces amazing parts.
Huge build volume on a machine will run for days/months nonstop with zero issues. Open source for easy repairs when they do happen or upgrades.
Great company and excellent customer service/technical support.
I love the Taz 5. The quality of the machine is great and produces consistently good results. It has options to expand the functionality of the machine. I highly recommend an enclosure if printing with ABS to improve your results. The community and customer support is excellent.
Great, reliable machine that does presume a greater knowledge of how 3D printing works. For someone who is willing to learn a lot more about various types of processes, and willing to put in some research, this is an outstanding machine that can take a lot of abuse. Being open source allows the user to mod and upgrade as they see fit, making this a versatile option.
It's been a great machine. The TAZ 6 is equipped with larger diameter rods to hold the large Wade-style extruder and prevent bowing which I could use. I'd also like more robust dual extrusion, and as extra-credit coming standard! Overall it's a great machine and the Lulzbot engineers are constantly improving on it. Highly recommended.
Solid machine. Vast amount of modifications supported due to its open source nature.
I love the Taz5. There is a bit of a learning curve to get it functioning consistently, along with some minor upgrades that are highly recommended. But pass that barrier and there's no stopping it.
Very good printer and exceptional value, but Taz 5 lacks precision owing to the X rails being too thin. This is addressed in the TAZ 6.
This is hands down one of the best machines out there. It is very reliable and has an amazing open-source team and community behind it.
Intermediate to expert use only. Would be intimidating for a beginner. Lots of things to understand to get the results you want. The best thing about the printer is that it it gives you every option hardware and software wise to allow you to get the results you want. It is a high precision printer with one of the largest build volumes for its price range. Great buy.
The Taz 5 turned my opinion of desktop 3d printing around, following my bad experience with my MB Rep2. It's a wonderful printer, the prints consistently stick to the build platform, and it'll pretty much take whatever filament you throw at it. You can also get replacement hot ends for different materials, or swap rather quickly to dual extrusion. It's a great printer for someone who just wants their printer to work. Also, I should note that I'm using Simplify3D software instead of the stuff that comes from Lolzbot. I don't know if it makes a difference, but I like Simplify3D better.
Fantastic printer... Great build volume and accurate parts. Very easy to use.
Lulzbot Taz supports a wide range of materials, has a large build volume. Since it has an Open Source design, it is easy to customize the printer for unique processes.
A solid well-built machine that has be in near daily use for a year without so much as a hiccup. The only issues we've had stemmed from improper z-calibration, an issue that is now automated in the latest Taz 6 and the LulzBot Mini. Any of these printers are great machines, with the support of an amazing company.
Good Printer for the Price.
The Taz 5 is worth every penny, easy to use and to get used to my 66 year old dad runs mine.
The Taz 5 is a fairly robust printer that competes in both features and print quality with printers much further above its price range, while still retaining its open-source roots.
Cons: It was a little hard to learn at first, and bed leveling is a pain in the but to do every other time I print. The dual extruder was almost impossible to learn, and it broke a couple of months after using it. Pros: I can do large prints, in a wide range of materials and it's relatively easy to get the prints off of the bed. Lulzbot offers fantastic customer service, so this is helpful.
This printer is amazing and if it breaks their customer support is amazing!
Other than all positives side, I expect to see three things in new version: 1. automatic leveling 2. Function to support filament change in middle of of printing 3. Certain level of enclosure to reduce warping of ABS etc materials.
Great investment on simplicity and quality. Less flare and more results.
Did much research and visited the factory in Colorado. Ordered a unit and have not been sorry. Excellent customer service with quick follow up and answers to questions. Flexible extruder works without a hitch. The only problem is my lack of discipline to jump right into something new and push the limits, but I have never been disappointed with the machines ability to absorb my funky ways and keep producing without breaking or shutting me down.
Overall the printer is very nice. Price is high, but you can find used models for cheaper. Community is great. All parts and manuals are open source. Next printer will be another lulzbot.
This printer might not have wifi or a blinky set of LEDs that change colour, but it works... It really works, and then it works some more. As a hub we've run this printer pretty much round the clock for years and the only thing we've ever had to do was change the PEI surface once (and that was probably more our/material fault than the printer). On top of that, great build volume and consistant printing quality - Awesome.
Rock solid workhorse printer. Can print large volume prints. Active community and decent warranty. All parts are open source so print a few spares at the start. Need to add enclosure to print large volume ABS prints but that is a limitation of ABS. We have two Taz 5 printers and they've been very reliable.