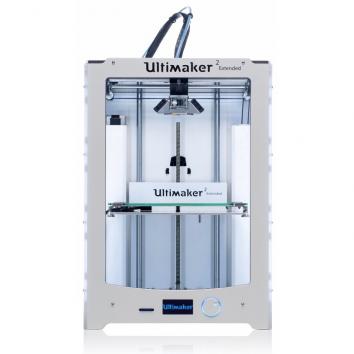 The Ultimaker 2 Extended is the large version of the well-known multifunctional Dutch 3D printer. It comes equipped with a heated build platform and can print at a resolution of up to 20 microns. It supports both PLA and ABS and can print at a speed of 300 mm/s.
Available from these sellers
100% recommended
Owner Reviews
Having zero experience with 3D design and printing prior to my UM2E, I recognized a learning curve but know that the Ultimaker made the process so much easier. The printer is completely dependable and consistent, removing many of the variables that exist when trying to perfect a print. The UM2E is a quality built workhorse with a great community behind it.
3D printing is all about ease of use for the beginner and the Ultimaker 2 range and community is peerless.
The Ultimaker 2 family is great for beginners and experts. It is very reliable and easy to tune if necessary. There are a lot of different materials to choose from and to experiment with. The olson block is a great improvement and I've used the different nozzles a lot!
One hell of a lot of fun !
Very well built machine with good quality printing. (When it works) Being the ultimaker extended 2 (not + version) it has the less reliable geared feeder that has a tendency to gradually misalign the filament, which then partially slips off the knurled wheel and begins to grind. This all results in a failed print and much frustration. I genuinely feel that this is a bit of a design flaw and should be rectified by Ultimaker (but not by expecting you to adapt the machine yourself or by charging you over £350 for an upgrade). This is however my only criticism of the printer and it can be overcome reasonably easily with a slight modification. In conclusion, i would recommend this machine (or at least the latest version offering the "+" marque!).
Great printer, great prints, high price, worth it.
The Ultimaker 2 Extended is a great printer, it has a great finished prints and is easy to use.
The ultimaker 2 extended has been an excellent and highly reliable printer.
Great printer but high price
It's an amazing printer. It rarely lets you down but as long as you give it a weekly maintenance check up, you will be fine. The prints are always great and the printer is aesthetically pleasing.
Well designed machine, great software aswell is the firmware. Modular design would be the standard (e.g. replacing wiring isn't the easiest). Also not so pleased with the customer support and expensive replacement parts. Overall a very quality machine, still to improve a bit
It's incredibly well designed and will print most anything you throw at it.
Very versatile FDM printer, prints any material available. Since it's open source you can constantly modify and upgrade the printer.
Its the most straightforward printer ive used