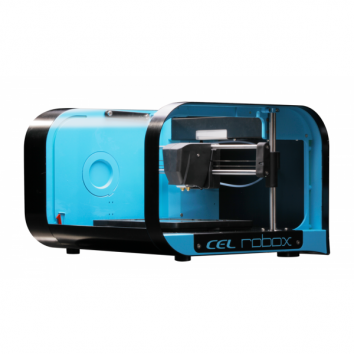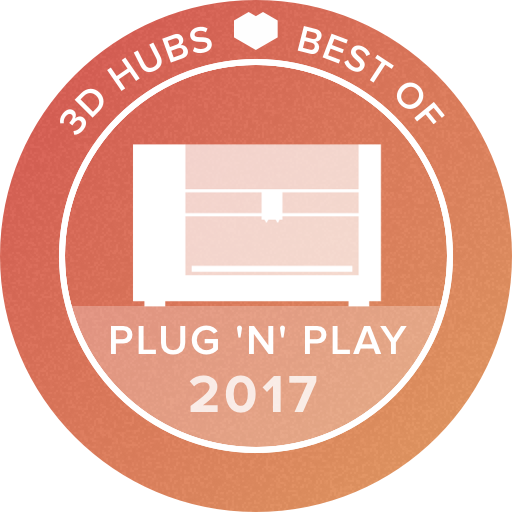 Originating from a Kickstarter campaign, CEL Robox was successfully funded (£280.891 raised on a £100.000 goal) on October 28th, 2013. The company CEL is located in Portishead, U.K. That's where they manufactured their award winning Robox, a FDM printer with features like an interchangeable print head, heated build plate and auto-leveling, to name a few.
100% recommended
Owner Reviews
An excellent printer that is fast, reliable, repeatable, and backed by some of the best customer service I've experienced in 3D Printing, and I've been doing this a long time. This printer has some fantastic innovations, they've really tried to think outside the box. Some of the features that set it apart from the others are the innovative heated build surface that is made of "Magic" (sticks REALLY well when hot, parts literally pop off on their own when cool). The modular head system supporting multiple print heads and tools such as mills, lasers, drag knives in the future. The dual-nozzle quick-fill head (using a single extruder, with 2 size nozzles for faster prints with high quality), and the vast array of safety interlocks, and features in the printer which detect an error to protect you from failed prints, allowing a "graceful" resolution. Also while they have their own proprietary spool system, the printer remains open, accepting any filament in the 1.75mm diameter. Keeping it cost effective to run, and very flexible. A Highly recommended printer, and my new personal favorite!
great machine, really fast, accurate and relatively cheap for the value. plus the print resolution is insanely high, it can print down to 25 micron layers
The support material functionality on this is amazing, cleaning lifts away, no mess to clean up afterwards unlike with the Upbox - I will be getting another one, and also upgrading to dual extrusion at the earliest opportunity
It is a printer for beginners. No adjustments, just plug'n play. With the needle nozzle system the printer has some advantage against other printers.
The Robox is a high quality printer with features not found in higher end printers. Robox support is fantastic, and the company is constantly working to upgrade the printer. I can start a 30 hour print knowing it will be there when i come back.
The v2 production unit is great, quality prints at ease but don't expect a big build volume. Overall you can't beat the quality for the money! A+
It is 90% perfect printer. I only miss wifi, and a less noisy printer. Maybe also the print speed which is too slow. But those points are nothing compare to all otter positiv points
The Cel-Robox is the best 3D printer ever made
Easy to use printer but with limited build volume. A bit slow when printing at good quality but great for beginners.
I've got my Robox from their project at KickStarter. At the time I received it, it still has a lot of hardware issue (such as, filament not recognised by the sensor, issue with the ptfe tube being loose from its attachment, nozzle is blocked, even I have to replace the head twice), other than that the software is in early stage. BUT NOW, it is different. In the last 6 months, I have printed a lot of models without any issues at all. I love printing XT on Robox. This is the result of the CEL-Robox team to respond and listen to the community. Now, they are trying to make the dual head material perfect. Note:from the beginning they already had dual nozzle (1 head), but it accepting only 1 material. I just can't wait to upgrade my Printer.
The Robox is a strong contender in the plug-and-play market, but also competes with more expensive printers in accuracy and precision.
Excellent, reliable Dual Material FDM 3D printer. Easy to use and very little maintenance required to keep it running optimally
It is a great printer, I have 02 units and run them almost everyday. They are very precise and produce excellent parts. It has the amazing nozzle system which reduces most of the common errors on 3D printing. The downside is that the nozzle system doesn't like filled materials.
Robox has more feature, better quality prints and look better than any other printer in its class!
I don't have time to wonder if my model will print. When I send a print to Robox I know I can just get on with my design work. A tool should make a job easier, Robox is the best tool I have purchased in years.
A Great Desktop printer that makes me more productive as an Engineer
On the plus side: Nice printer, easy to use and makes high quality prints in all sorts of material. I love printing with it, so I use it frequently (a few hours every day) On the down side: For extensive use like that it is unfortunately not always reliable. I've had a few problems wih the Z-Axis and several leaking heads. You get 2 years warranty. So all problems are solved without extra costs, but it is still annoying. My advice: ' Go and get one, but do not get it 2nd hand. You might need the full waranty time'
Great klick and print machine. Easy to use.
A good machine for beginners and schools but lacks print quality and it is very noisy.
I really love the CEL Robox. There are two things that I wish there were there: 1) A bigger printing volume , 2) compatible with simplify3D
A fairly good plug and play printer with some really clever hardware ideas, stymied by poor software and reliability issues. We're on our third cel robox, and while the warranty is good - even our cheaper printers are more reliable.
The CEL Robox has been a great machine. The two biggest downsides is that CEL will not sell repairparts to allow the users to do their own maintenance, and Tue build volume is too small. If CEl Robox made a larger printer, I would probably go out and buy one.
The Robox is a reliable, easy to use printer. It is forgiving and one of the few 3D printers out there that will protect itself from your mistakes and prevent most damaging errors. It is easily usable by a beginner and has the flexibility for advanced users to customize profiles and settings as needed. Support is responsive.
very reliable and easy to use with great quality prints everytime