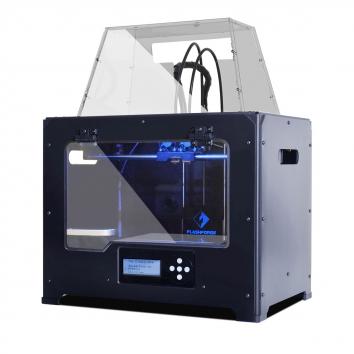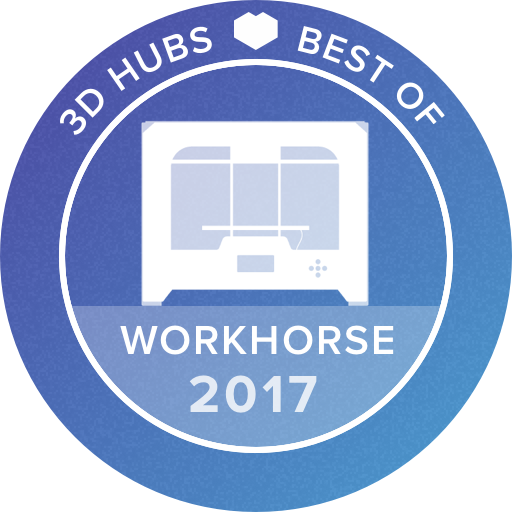 The Flashforge Creator Pro is a reasonably priced Chinese 3D printer, which bears close resemblance to the Makerbot Replicator 2X. It is a step up from the original entry level Flashforge Creator, but comes with a metal frame and enclosed chassis. Other new features include the upgraded platform leveling system and metal build plate and guide rod to help with stabilization and durability. It has dual extruders and printing materials include ABS, PLA and PVA.
100% recommended
Owner Reviews
This is a great buy!! The printer is well built and produces consistent and clean prints. For the price, its the best! Easy to upgrade, reliable, and great support. Recommend picking up a copy of Simplify3d.
I now own two of these machines. I use them near daily for producing all sorts of products. Granted, I dont do the 'thingiverse toys' and superb cosplay things you see on the facebook groups - but for my design and prototyping work, they are absolutely superb and I wouldnt be without them.
good quality, unreliable with dual printhead or advanced materials such as copperfill/woodfill
It was the best printer I could get for around $1k US. I happy I did not compromise on a lesser machine.
Decent quality printer at a low price point. With the Flashforge you get a lot of features and capability that you normally have to pay a lot more for.
The FlashForge Creator Pro is a workhorse 3D printer. We experience excellent performance and reliability with them, and their ability to work with a wide variety of materials out of the box is great.
The FlashForge has blown me away with reliability and precision. I print constantly without having to adjust anything except for occasionally leveling the bed which is easy with the three point system. I love I don't have to tether it to my PC, prints from an SD card. Prints great in all resolutions. For $900 this is really the best bang for buck.
I have 3 3D printers and when I want quality I always turn to my FF Creator Pro. It will always out perform my Hictop Prusa I3.
It isn't the best Machine and buy it From WOL-3D, Mumbai
I was surprised by the speed and print quality offered by this pinter considering it's price point. Awesome value.
GREAT Printer, works very well with any type of plastic, the only downside is the noise level.
I think it's a great printer, but the range of printer software is limited compared to other printers.
Very reliable machine, easy to use. EXCELLENT MACHINE. We love it so much that we ordered a second one!!
The Flash Forge Creator Pro is the most reliable and easy to use 3d printer that I've ever owned.
I'm extremely satisfied with my purchase of the FF Creator Pro. The build quality, print quality and speed are top notch. I rated it low for software as the free slicer software (ReplicatorG) it comes with never worked for me and is very simplistic. However with a decent 3rd party slicer (I use Simplify3D)this printer will meet your needs.
As a first printer, this comes assembled and ready to print with a flashforge buildtak sheet ready for ABS and PLA. This is a great introductory printer as well as intermediate and professional printer. I highly recommend this.
Awesome printer! Great bang for your buck
The Creator-Pro is based on the open source MakerBot early generation design. Several versions are available from different manufacturers. It will print PLA/ABS at a slow consistent speed and will keep printing for a long time. We run these machines 24/7 with regular monthly maintenance using .4 - .8mm nozzles primarily with ABS. They are available cheap from return stores and used.
Good and reliable printer, easy to use, good community!
Build size must be bigger
This is clearly the most reliable printer for the price. With a massive support community, many open source options, and parts from many vendors, it can provide a great printing experience for a long time.
I am really glad to have started with FFCpro because it's easy to operate and I don't need to level the platform everytime I need to 3D print something. From my side, there's only one thing I didn't like about the bed. Even if it's heated, sometimes, when I 3D print a large flat base, it tend to curl around the edge but if I use a slight layer of 3DLAC, I gain control over that problem. For beginners and intermediates, I would recommend it without hesitation.
The Flash Forge Creator Pro is like a tank. It's a good reliable printer that make good quality prints. if there are things you don't understand. There is a big community to help you out. The downsides of this printer is sometimes the second extruder knocks of the print from the bed. But this can solved by correcting the nozzle height of the second extruder.
A good price / quality 3D printer with dualhead and heated bed.
This was my first printer and produced excellent prints from the start, great quality and reliable I have run several 85 hour prints without a hickup. As with any printer I would recommend updating the extruder fans to duel ball bearing for longevity. Thingverse has several options for upgrades and alot are great performance inprovements. The only frustrating part of the process is the Repetier slicer....its accrate but so slow taking up to an hour to slice and convert to STL file. i would recommend buying the flash forge with Simplify 3D software its full of options and really fast.
Overall I have loved what I can do with my Creator Pro. Setting it up and finding software was time consuming and difficult but once I had the settings figured out and my software chosen prints have been high quality. My biggest complaint is the dual nozzle. Never have gotten a reliable dual print.
It is a reliable machine, very few issues and the ones that do arise are easily solved. For the price-point there is no better printer quality wise.
This was my first 3D printer and it was fairly easy to learn and use. the only downsides are sometimes filaments gets stuck in the dual extruder but after a couple of times you get a hang of fixing it.
It is quite self explanatory, the few nozzle issues we have had have been repairable. Overall good experience.
Overall this a good printer to buy if you want to learn 3D printing. ;-)
This is a great first generation printer. It has almost all the enhancements that most first generations lack. It is reliable and the print quality is pretty good. You can't get a better bang for the buck.
It is a great way to scale. You can produce more prints when you have multiple printers going at the same time.
A more user friendly extruder assembly. Lower price.
Since I've bought my printer a few problems i had with it have ben addressed. Mainly, the need for active cooling for ABS and the under size wire and connection for the heat bed. The value is excellent. You can print right from the box, but there are a few tweaks you need to make to get it perfect. A glass bed is also a necessity IMO. The reliability of the machine itself has ben very good. The connection for my heated bed fried and it was covered under warranty.
Great printer. For the price you pay for a 3D printer please add decent CAD and slicing software. I purchased new CAD and Slicing software (Simplyfy3D) which just feels wrong to spend that money on a slicer after you paid for the printer but without it trial and error is very annoying.
Overall, I really like the FFCP printer. It has produced far better prints and prints much faster than I was expecting. The enclosed chamber and heated bed makes it possible to do fairly decent ABS prints within some limits. The biggest downside to the FFCP is its overall reliability and maintenance requirements. The X-axis endstop cable died on mine with less than 50 print hours on it (and the FFCP appears to "eat" those cables, along with X-motor cables, regularly). And the connector on the heated bed burnt itself into a crispy-critter within the first 100 print hours due to poor quality connectors and too small of wire gauge. I also had to replace the SDCard slot as the original one was cracked and was making poor connection. When it stays running, it runs great. You can prep things, hit "print", and walk away without even waiting for it to start. But so far I've had some maintenance issue or breakdown about every week. For engineers like me who know and understand electronics and mechanical systems and don't mind soldering circuits or replacing physical parts, this printer is decent as you can generally repair things for a couple of dollars here and there. But, in general, their "genuine" replacement parts are a bit on the expensive side, meaning for someone who isn't an engineer, this printer could get expensive quickly. General support and community outreach is there, but is a bit limited on its technical expertise, compared to the more "do-it-yourself" types of printers. I also don't like the supplied software (RepG and FlashPrint) and find it a bit rinky-dink. However, you can use nearly any printer software, both open-source and commercial, as long as you know how to setup basic start/end gcode sequences, configure the printer metrics correctly for the slicers, and use proper post-processors to convert gcode to the x3g format. Overall, I'm very pleased with this printer. In fact, I own three of them now -- all the latest 5th generation 2016 FlashForge Creator Pro model. Each one has its own little personality, but is fairly consistent from unit to unit -- I can configure a print once and easily print it on any of the three printers (as long as you've dialed in homing offsets and things to where there is little discrepancy between them). Most days, I have two printers running almost nonstop turning prints, and one is generally broken down being repaired -- it just rotates out about each week as to which one I'm working on.
If you already have a background and a good understanding of how 3d Printer Works, this is the printer for you. If you have good system of maintenance and operation of this printer, it will not fail you.
Its benn a reel workhorse. 24/7
Built solid and has very good print quality if speed isn't pushed. However, because of relatively high moving mass, ringing and artifacts can appear if speed is pushed. Not a high performance design. The Mk10 hotend design of one of the best ever built. Virtually jam-proof.
It's has a solid frame, uses designs of axis from other printers. Uses an Arduino Mega, (16 bit) only has USB connection and SD card. My other printer has a 32 bit board and an Ethernet connection, which allows remote access. Some acoustic foam upon the plastic panels would make quieter when the stepper motor are driven quickly as it tends to shake.
The FlashForge Creator Pro is a reliable, inexpensive printer that produces great prints. It's a great machine for beginners too - you wouldn't want to start out on a cheaper machine that may require more hands-on experience.
Nice printer for beginners/intermediate.. not easy to understand all the functions reading its bad done manual
This is an incredible printer for its price, and paired with Simplify 3D slicer, it is unbeatable for sure.
It's great to get up and running, but it doesn't take long before it reveals its shortcomings. Despite the ease of use and the variety of software you can use due to it being open source, it struggles and makes some illogical moves that can really frustrate. Problems seem to come in waves, but once they're solved, it is free-sailing until the next time.
The Flashforge Creator Pro is a decent printer, but not the highest quality. It prints beautifully, but can take a bit to get used to. The stock replicatorg sw it comes with is horrible, I recommend using Makerbot's free desktop sw or buying Simplify3D. I took off some stars on quality because it only has a couple month warranty and uses cheap parts, so you may end up with some out of pocket expenses to keep it up and running. For what it is, I would say it's over priced, but it is well established, has a big community behind it and is better than $600 knockoffs I have tried. Overall, it prints really well, so if you want beautiful prints, and don't mind trying different software and possibly dealing with an occasional hw problem(you likely will with almost any 3d printer), it's a good choice.
It was my first printer, got me into printing and it's just been great all around.
I find it to be a very reliable machine. The dual extruder feature is nice to have also.
I love the customization options with this machine. I can run almost any material through it and it still goes like a champ. Mods are relatively easy to do and very inexpensive.
Good 3D printer but noisy, excellent capacity for ABS 3D Printed Parts.
Good value, out of the box operation.
It is a great printer with cheaper then other simmilar printers on the market. Somtimes the extruder can get fiddly and must be completely taken apart but this is a general problem I guess and it also depends on the filament. Otherwise, it fits a ton of available filaments and materials out there! This printer has great potential.
This is an amazing machine that makes the best quality prints I have seen from any other printer. It is a very reliable and sturdy machine that can continue to work for long periods of time and produce repeatable results.
It takes some time to get started but that is mostly a software issue. Once you are dialed in it is a workhorse
Now its relativly expensive for what it delivers in my opinion , If I knew what I would want when I got it either a bigger printer volume or a smaller printer , Tho the enclosure is nice and easy to calibrate.
Few printers in the entire industry can do dual extrusion. It really allows multi color designs to come to life.
Definitely my go to 3D Printer. Part after part with no problems for years. Rock Solid.
The FlashForge Creator Pro is a reliable, workhorse 3D printer that is a great value with dual extruders, heated bed, enclosed build chamber at a price point that's attractive to beginners and hobbyists.
A good printer that gets the job done.
Its the best bang for your buck 3D Printer. If you're on a budget but need a printer thats reliable and works right out of the box, this is it. Look no further.
Like with any printer once you use a bit, and you understand it, it is an amazing machine. Everything is good except the ptfe tubing in the extruder, and the build volume.
FFCP is reliable, has great print quality, and requires little maintenance. It's been a solid machine for 3 years.
Great machine. Extremely reliable and built really well. Have done many dual extrusion ABS & HIPS prints with it and it's absolutely great. Only caveats are 1) free software it comes with isn't that great, you need to buy simplify 3d and 2) even with simplify 3d, dual extrusion requires some tweaking and calibrating to get right. Overall though, extremely satisfied with the printer and ABS + HIPS prints that come out rival the quality of some ABS prints coming out of our Stratasys uPrint at work ($1.2K vs $30K)
Still my favorite printer to date. By far the most reliable machine, its common for it to be running 24/7
Good and reliable printer. Calibration of the dual extruder a bit annoying. Good quality of the prints. Software upgrades always improving. Dual extrusion could be better designed.
While the printer isn't that cheap, the print quality is amazing! The printer is very reliable and easy enough the maintenance. All parts can be acquired separately on any 3d-printing site which makes it very easy and cheap to replace a broken part. Calibrating the two extruders isn't that easy but it's a luxury to have them for printing complicated support structures using PVA.