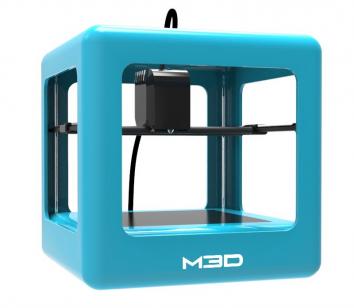 The Micro by M3D is amongst the most successful FDM printers on Kickstarter, amassing $3,4 million in 2014. It has a tiny build volume of 116x109x113mm, where the top 74mm only reaches a surface of 91x84mm (in other words, it narrows). It prints with 1.75mm filament and reaches a 50-250 micron resolution.
Available from these sellers
100% recommended
Owner Reviews
It's an awesome piece of machinery for a decent & affordable cost. It's machine for beginners into 3D printing field.
very cute design, fits into handy flight luggage and on desktop, Software looks well but does not support multiple objects on the bed and is buggy regarding the upper build volume and thin parts (bad slicer built in). There is alternative software around for better use of this printer, but much fiddling and not easy to get this to work for beginners. Most pro: small and reliable (but only using external filament spools with bigger diameter) Most con: small usable build volume without alternative software installed
It's a good, reliable printer. Excellent for beginners/students.
It's a very good printer for the cost of it
The M3D Micro can be a great first printer for kids and people that don't want to make 100 setting adjustments to make a print. It's the slowest printer on the planet, but because of that prints rarely fail. They have been having some quality issues, where some people will get one that never has a problem, others have problems left and right. They do have pretty good us based tech support. For most people the slow speed and small build volume will be a complete turn off, but there is no easier printer for a first timer.