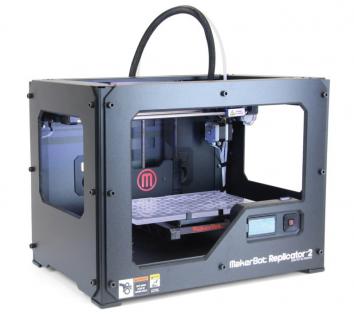 Still one of the company's most successful 3D printers, the 4th generation Makerbot Replicator sports a steel chassis, LCD screen with on-board controls and SD card connectivity. It has a build volume of 28.5 x 15.3 x 15.5 cm and print with PLA.
100% recommended
Owner Reviews
Great starter printer, however the replicatorg software is very confuaing for beginners, once initial information barrier has passed mainteneace and print accuracy/reliability is achieved
Works well and is ready to maintain. The makerware Slicer has gotten worse over time so Simplify 3D is the way to go with this printer.
Good printer, small amount of warping, software is good, but support is not the best.
A bit in his ages but runs like a charm. Customer service exchanged several broken parts free and support always was good. Overall a solid machine that can be used with all pla like materials. Upgrades like a heated build plate/glas plate and or aluminum arms make this printer almost bulletproof. Maintenance is quiet easy for makers and or professionals, further more changing individual parts of the printhead/hotend keep the running costs over the years down.
i think makerbot replicator its a great 3Dprinter ready to use easy for everybody
This machine has provided reliable service for over 4 years and is still running strong. I've had to replace many parts, but have always been able to keep it running. The print quality is better than my Airwolf Axiom Dual printer that cost twice as much.
Makerbot isn't making machines like this anymore, which is a shame. The rep2 was basic, well built, easy to upgrade/modify, and sturdy as a rock.
While there were issues at first, this printer has been very reliable for the most part.
It is a good starter printer and a beginner can learn how the basic work in this printer. Being a single head and older model it is not for professionals as the newer generation versions now have more functions and capabilities.
I bought the Makerbot 2 over 3 years ago, based primarily on price point and availability as well as online reviews. In the three years I have owned it, I have replaced the thermal tape a couple times (insulation around the extruder), the extruder/hot end once (recently, after maybe 1200+ hours' use), and the fans each once. I made the smart move in getting a glass build plate from my supplier, printing a roller bearing spool holder, and am looking at a set of upgraded arms, bearings and replacing the belts soon after close to 1500 hours' printing.
This is a workhorse 3D printer. I have put 1000s of hours on my machines.
The Replicator 2 is a useable 3D printer if you change the extruder and feed system, add a heated bed and can live with the Makerbot software. With patience and some experience (like all 3D printers) good results can be achieved.
Little long in the tooth right now, but it cranks out beautiful prints if you practice. The nozzle is great for PLA as it doesn't clog.
They don't call it the "golden standard" for nothing. This printer is easy to use and maintain. You master it in just a few prints. Unfortunately not being sold anymore but if you are lucky to have one treasure it because there isn't another one out there like it.
very reliable, a few quirks that you have to work around but a work horse in general
Makerbot sets out like many companies to build a 3d printer for every one, while unfortunately 3d printing is a long ways from being a house hold "every desktop has one" type of thing. Its best for some one that has a mechanical background as well as some basic code.
Great machine, does required ongoing maintenance - performs best when regularly maintained.
The Makerbot Replicator 2 may not have as many features as other 3D printers, but it still caters to the hobbyist while other 3D printers don't
great printer, even better when upgraded with new z axis and heated glass build plate.
Very reliable + great quality prints
It has faults, but they are consistent, and if you keep on top of maintaining it, you will get a consistently good quality of print
With the Replicator 2 being the all gawd-father of modern desktop 3D printing it is in my opinion still unrivalled in ease of use, reliability and print quality. All maintenance is well documented for quick and easy DIY. No other printer has given me such a long and high-quality run for my money.
Still the best model of the different makerbot
OK for FDM printer. The entire FDM technology has huge limitations.
The frame is built like a tank, the extruder is alright but cannot to NinjaFlex. The bed is horrible as is and is alright when using BuildTak. It is a must to upgrade to Simplify 3D, makes a tremendous difference in print quality.
Just great, easy to use, and very high end software
Durable workhorse of a printer. Changing nozzles is a pain but otherwise it's a breeze to use.
Solid printer and also first printer, will be always be my first love
I wish Makerbot built more on top of this platform rather than releasing the terrible 5th gen printers. The only problem is the age, and the fear of not being able to buy replacement parts for much longer.
Fantastic workhorse machines. I can always rely on them to print.
3 and a half years of prints and I have not had a single issue with this printer. Beautiful finish and quality every time.
its good machine but in my country indonesia the costumer service very not recomended, its good sofware and makerbot can use simplify.
Difficult to use in original build. But there are many ways available to customize it.