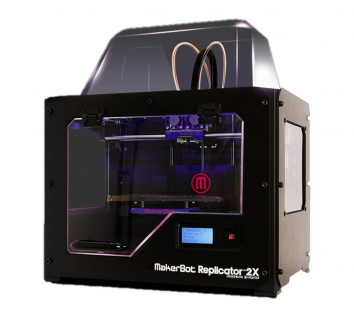 The Replicator 2X is Makerbot's experimental dual-extruder 3D printer comes with a fully enclosed steel chassis and boasts a heated platform for printing in ABS or PLA.
100% recommended
Owner Reviews
This machine has the same architecture as the original Stratasys machines with the addition of the heated build plate. I was used to working with those machines and that's a big factor in choosing it. Take care of the machine and it'll work great.
If you get a good build plate you can set it and forget it
Expensive but worth the money. Durable, precise, yet expensive for certified parts.
The Replocator 2x is a great machine. Works well once you dialed it in. It has a robust community on thingiverse so upgrades are readily available. Over all its a very great machine.
The Makerbot Replicator 2X is a wonderful machine ... sometimes. I've been printing on it for some time, and it seems to consistently break down. Just to get it to print properly, I had to modify the printer. The silicone heater block on my printer recently started to just fall off. I contacted Makerbot about the issue, but they won't reply. Now I'm stuck with a printer that doesn't work, and can either fork out $200 for the official part, or $50 for an off brand part that I don't even know will work. Overall, when it works, it's a great machine, and I would recommend it to intermediate and expert users, as I think the challenges beginners face, may scare them away from 3D Printing all together.
Works with any material, never fails. The machine has more that 3500 hours.
Is a fantastic machine, as far as you make upgrades like extruder change and proper layer ventilation. The software is deficient do to the possibilities offered by the machine, therefore recommend using simplify3D