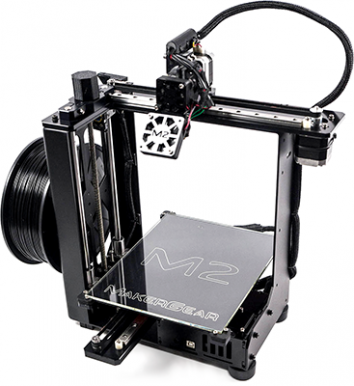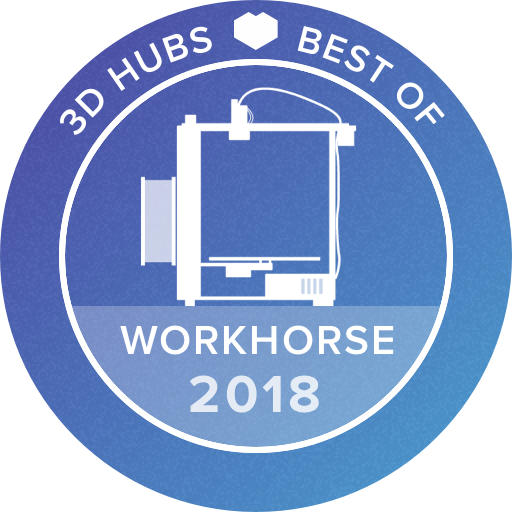 The US manufactured M2 is the 3rd generation of Makergear's 3D printers. It is built on a solid metal chassis, giving it a sturdy structure. This machine comes equipped with a heated platform which uses PLA or ABS to build objects of a maximum dimensions of 20.3 x 25.4 x 20.3 cm. It is a versatile 3D Printer that comes pre-assembled, while users can also tweak the machine with on-board controls, interchangeable nozzles and dual-extruder upgrade.
Available from these sellers
100% recommended
Owner Reviews
Great and reliable printer! Only modification i made was adding an E3D HotEnd
Fun, Easy to work with, parts available
For the money, the quality is very good. It's a bit of a learning curve if it's your first printer, but i believe that can be said for any 3d printer. Install 15.00 nema dampers. Then it is the perfect package. (I believe they are in process of adding these to future gen printers.)
The Makergear M2 has remained largely unchanged for several years for a very good reason. Once you get the bed leveled, it stays level which is critical to printing. i've ran the printer for several days nonstop and it continued to print as if t were brand new.
Overall this is a good product for the price, although a few failure modes are common. I've used/been around 5+ of these printers and the nozzle mount broke in every one (newer mounts are available that are more reliable). The heated build-plate wires are not very well strain-relieved. Wires on my personal printer and the same printer at work have both had wires breaking off of the heated bed from typical usage. Common filament usage and flexible temperature control make this printer good to experiment with new materials.
I think its one of the best printers available on the market. The customer support is awesome. There is a learning curve, as with all printers, but I was printing right out of the box and 4 month later I'm still learning, but that's due to me never having a printer before. I use it to print cases for my BBQ customers and I get wonderful results every time.
The Makergear M2 is well built 3d printer. The dual extruder upgrade great increases the capability of the printer allowing it to print far more complicated designs than is previously could. would recommend the M2 to anyone looking at getting into 3D printing.
The makergear is an amazing, soild printer for the cost. Which is why I just purchased a second one for my business.
The Makergear M2 Rev. E is built like a tank. And that shows in print speed and realiability! Whit this machine we get better quality on the prints at 80 mm/sec than with any other tested, at often below half of that speed. The Makergear is also very well designed to be easy to work with. Switching hotends takes maybe two minutes. You can switch just the nozzle, but for production jobs, when speed is key you will be better of with one hotend for each nozzle size. Not the cheapest, but the printer run circles around for example the Ultimaker 2.
It's a fantastic printer that is both reliable and precise. It is a little on the expensive side, but if it can be managed, you won't be disappointed!
Fantastic printer... Great speed and precision. Very well built
Very good hobby printer for someone who can take the time to dial in the print process.
The reliability and the ease of maintenance has made this printer worth the every penny for me. This machine is a tank and keeps plugging away at everything I've thrown at it that past 18 months. It's done filament switches, embedded parts, exotic filaments, large parts, small parts. It has served me well.
I was lucky to stumble upon this and buy this as my first printer. I have tinkered with it a LOT, modded it, tested things, broken most parts of it and always had good responses from the customer support. That is the most important issue I feel.
This is a solidly built machine that is easy to operate and easy to maintain. It is even easy to modify and upgrade.
Love this printer. Only thing after 100kg of printing that broke was a fan on the extruder. It broke because when I was putting filament into it I missed and it ran into the fan, breaking a blade. So my fault. Other than that not a single thing has gone wrong with it that wasn't my error. Looking to buy another soon!
Very good printer and Simplify 3D is one of the best slicing software on marktet.
This is a fantastic machine. I own two of them and am thrilled with the quality and customer service.
Reliable printer, without much knowledge can get decent prints but with advanced knowledge can tweak your settings however you want to get amazing prints. Stepper motors are slightly loud but that is the only downside: community is great, the hot end allows you to print up to polycarbonate, and I have successfully printed with every material I have bought including PLA, stainless steel PLA, ABS, PETT, PETG, and nylons. In my experience an enclosed platform is not needed for ABS but some might see the lack of enclosure as a downside. It runs and runs without any maintenance except some oil on the linear rails, and I have done hundreds of prints. Choose a solid surface to print on as the high print speeds cause the printer to vibrate but do not affect print quality.
Well designed and built machine with outstanding customer service and community.
Not knowing as so many printers as I would like to know, this is the best printer I've known. Reliability, speed, quality...the best of its characteristics. On the other half, not having a sales representative in Brazil makes quite difficult to have a great support. Anyway, I'm really satisfied with the printer!
Excellent printer, I have been using this printer now for 2 years and have had nothing but positive experiences with it. Well built, very precise.
It does not do great with large flat build and there is no program to go with it. In order to run easily you have to buy simplify 3d
The reliability is good, besides some problems getting the printer to keep the Z-height. Fixable by adjusting the Z-height before printing.
An amazing printer, built like a tank, extremely reliable and accurate.