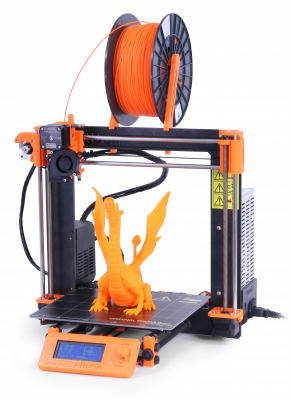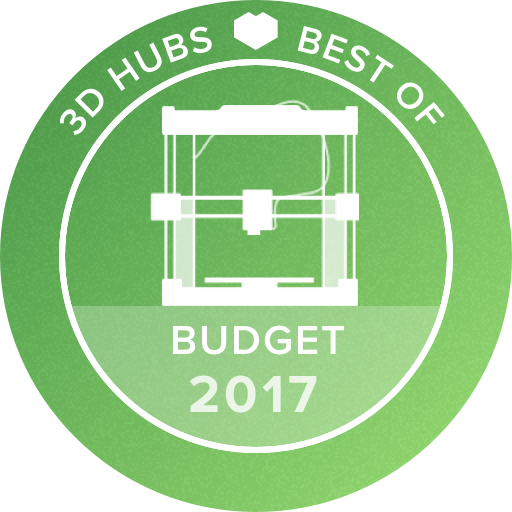 All parts of this 3D printer are Open Source and are part of the RepRap project. This printer comes equipped with a heatbed with cold corners compensation for warpless 3D printing from a variety of materials ranging from PLA, ABS, PET, HIPS to Nylon, Bamboofill, ASA and Polycarbonates. The Original i3 MK2 is now on its second version, the Original Prusa i3 MK2S, which is a versatile printer that comes as a kit or pre-assembled.
Available from these sellers
100% recommended
Owner Reviews
I was sure that the Prusa i3 MK2 would suit my needs, but it totally blew my mind. This printer is the best printer money can buy at the moment, even up to high end printers. The support and community is great and Prusa Research is releasing new firmware and keep adding new features constantly! I can also print everything from flexible filaments to high end Nylon filaments. The noise level is low and the maintenance is down to a minimal. If my wife would allow it I could need another one, my printing queue is just growing and growing and I never have downtime on the printer.
The kit works well enough, but if I'd buy another I'd buy the fully built version. You can get it to work well, but it will cost you a lot of time to get it just right then. You save a lot by buying it prebuilt. Either way, once tuned, the kit works flawlessly.
I am very satisfied with our printers. Currently we have two of them and they work as they should all the time without any hickups. Only issues have been with the pinda probe being loose, but that's more up to me as a builder than Prusas fault. (locktite is recommended on the nut) :)
The printer just works. As an engineer I would rather spend my time designing parts than adjusting my printer. The Prusa i3 Mk2 is easy to set up and prints consistently.
I built this printer myself in March and learned a lot. I upgraded to MK2 this summer. I love how they develop their products and provide upgrades. The new heated bed with auto-levelling and no glass is second to none.
Being a beginner/first printer buyer I was confident this printer would be more than what I expected. The build, printing, customer service, and quality of this product are great. I would definitely recommend this to anyone looking to start.
Best value for money out there.
This is a great printer. As it currently stands the reliability is fantastic, everything is taken care of for me by the auto leveler and prints do not fail unless I forget to account for something in my slicer. The build quality is my only critique, some things are bound together with zip ties and that bothers me. Also, the printed abs components have an infill which really should be solid where they are holding tightened parts. I have had a couple pieces break where the nuts are tightened because of the infill. You can reprint them solid so I guess it's not out of your control, but I would have preferred they just come solid where it matters. Besides that, there is absolutely nothing wrong with HOW it prints. Easy easy easy.
The printer kit is easy to assemble if you follow the comprehensive and amazing build manual. The only point of concern is the position setting of the P.I.N.D.A sensor which may cause complete newbies a little headache. However, the community for this printer is amazing; forum / customer support will respond usually within minutes.
Well build printer, great value for it's price.
Extremely well built machine and they have just released there new quad extruder which looks very promising
Maybe the best printer at the moment for this price?
pure awesomeness ! joke aside, I used other printers (>2000€ budget) and the MK2 is really competing with the big ones in terms of maintenance, reliability, choice of materials, build volume. One downside: Slic3r is buggy and slow.
This printer blew me away with its ease of use and reliability. I'm so happy I got it!
A great self-calibrating printer with a constantly good print quality. The manufacturer delivers firmware updates, software settings for Slic3r, Simplify3D, Cura and also functional, mechanical upgrades from one printer generation to the newer one.
The new Prusa I3 Mk2 is the best printer I seen until now. The latest software update introduced a self-calibration option which corrects all the little problems which may appear when building the printer. Except for a stubborn screw that kept unscrewing himself I had no other problems. If someone asks me which printer to buy, this is the one that I recommend.
Very solid machine, good autoleveling firmware, prints at 0.2 are perfect, at 0.1 it depends. Overall 4,5/5. Would definitely recommend this printer to anyone.
Easily the best 3d printer I've encountered. Not budget, but great value for its price. Very versatile and expandable, with an active community and good support to boot.
Great print quality, very reliable machine. Fantastic firmware and support.
Best heat platform, good Printer for a fair price.
Excellent printer. Could not be happier with it. Only downside in Australia is the price conversion.
This a great printer. The kit took a bit of work to get tto gether but the instructions were very clear. Possible problem areas were well highlighted so if you can follow detailed instructions you should be good to go. The auto-leveling is a dream, the heated bed is great, and when you get stuck the Prusa forums are very active and helpful. I'm very happy with the printer.
Best printer I've ever used (it's my third)
It is a fantastic piece of Czech engineering! Josef Prusa has created a masterpiece and I couldn't be more proud to own one!
Very good printer for the money. Print quality is super.
Prusa i3 MK2 is a surprisingly well fabricated 3D printer with great community around the globe, detailed documentation and swift tech support team. It is much more reliable than its predecessor and its open nature brings almost endless choices of materials and upgrades to users – from hobbyists to experienced Product designers. And as a kit, it's a great learning tool for those who wish to discover the secrets of RepRap desktop 3D printers.
Great malleability and compatibility, giving high precision results at an attractive look.
The Prusa i3 MK2 requires technical knowledge to build and maintain, but the results are worth it!
other than slow customer service, great value for the money, prints are amazing, self calibration, ease of software use, great for beginners
The Prusa i3 MK2 is a great printer for a very affordable price. I assembled the kit and it delivers excellent prints with the XYZ leveling. I would recommend this printer
The kit will require some time to set up and calibrate, but it is time well spent. Once calibrated, it prints wonderfully and requires no "extras" to get working out of the box. Unlike some other cheaper kits, I don't have to reprint the printed parts with better material just to make the machine reliable. I would recommend this printer to anyone.
Great printer. Minor design changes I would make, but that's what open source is about!
It is one of the best value for money 3d printer!! Provides great quality prints.. Big community..
The Prusa i3 MK2 may be the best printer at the best price available today. It has easily exceeded all my expectations and the continual innovation exhibited by Prusa has only enforced my appreciation for the device and platform.
I bought the kit version and built it with my daughter. It was a great experience! If you buy one, make sure to print spare parts out of ABS, after 2 weeks, I had a part break and I had to order a replacement from Prusa which is located in Progue. It takes a while to get parts from there. It is absolutely the best decision to spend the extra money to buy the top of the line kit.
Compared to my Da Vinci 1.0 this one is by far the easiest to use, has better quality and support is awesome.
Great value for money. I decided to purchase Prusa kit along the Mark Two as a training device for discovering the 3D printing and it was a good decision. Not only assembling the printer and upgrading it helped me to gain some basic insights under the hood of the FDM technology, the printer delivers fair and reliable quality.
Very impressed with the Prusa i3 MK2. I bought it as a kit, packaging, assembly instructions, etc. were all far above expectations. Only other kit I have experience with is a Printrbot and the Prusa kit was much, much better. The Prusa has been rock solid. I've shown it and some prints off to friends with various RepRaps, MakerGears, etc. and they have all been jealous, asking how much I've had to fiddle with it to get it printing so well (answer, essentially zero; other than fiddling to get the Z-offset dialed in, everything else worked perfectly as assembled). Autobed leveling and calibration to correct X/Y skew work perfectly.
I find the feature set to price point ratio to be nearly unmatched. This printer offers the highest number of commonly desired features of any printer at its price point. Its open source design and wide architecture adoption in the industry provide an environment where upgrades and support are easy to access.
Excellent printer, recent upgrade belt drive system leaves a lot to be desired but on the whole a fantastic printer, good value, and excellent quality. Looking forward to the next upgrade of Quad print colours!
I love this printer. I waited for years for the technology to mature and the Prusia i3 mk2 was worth the wait. I'm already considering another one :)
great value for money, superb prints
Best printer I ever owned.
This a great machine to get started with 3D printing. The community is great, big and has a lot of knowledge. Prusa is constantly improving and the prints keep turning out to be great.
Overall very happy with it, not knowing any other, I would always choose it over the others. Could be time consumer to fine tune quality but worth the time. Cost / quality 10+
The printer can produce quite good prints. However, all if the parts it is constructed out of, other than the hotend, are poor quality and rapidly wear out. The wire strain relief is also wildly insufficient for the cheap, stiff wire that is used throughout the printer cause frequent wire breaks. Coupled with non existent to adversarial customer support you can expect routine down time, rebuilds and part replacement costs to be the norm with this printer.
The team at Prusa Research are just fabulous.
Amazing machine and very reliable. Very eazy to mod for use with cool materials such as PETG and NGEN. I put mine in an enclosure with a 120mm vent fan and relocated the electronics outside the sealed print enclosure.
I got more than I expected. It is an amazing tool. Prusa keeps on surprising me. I don't know why most people would buy any other printer. I have had a total of 3 issues out of hundreds of prints (Mainly because I forgot to whip the bed clean first or too small of surface area against the bed). I have talked 2 of my friends into buying it and they both love it as well. Great Printer. I wish Prusa SW was developed for advanced users too, but the Prusa Slic3r works great. I hate the SD in the sense I need to physically move from the computer to the printer. Can't wait for wireless control (and uploads). Maybe an app. Not sure octoprint is that great.
The best 3d printer for anybody that wants to start on 3d printer world. cheap and same performance than others
The MK2 is an amazing value and a breeze to work with. Connectivity to the printer is a little lacking with only the use of an SD card, but an Octoprint server can be easily added. The kit version is an easy build and the availability of the multimaterial upgrade greatly widens the abilities of the printer.
It was my first kit printer that i assemble easily. For the price, it is very good value compared to other high end machine. Completely happy with it so far.
It's the best printer I've ever had. I have two at home :)
The Prusa i3 mk2 is a great printer overal having very few downsides. It is also easy tot maintain and repair due to it being open source. Also comes with a great software for bigginers. With most of the calibrations being automatic.
Great little machine that can do it all, but it's a bit noisy!
Easy to use. It can print a wide variety of materials, this is a great plus.
I highly recommend this printer. Seems to print whatever I throw at.
My Original Prusa i3 mk2 is the best printer ever
excellent machine good value for money
The MK2 is an excellent printer! It is a bit nosy and it is not the most sturdy printer out there, but for the price the value is unmatched.
Very high quality/price ratio. It works flawlessly from day 0. Easy to use, minimum maintenance required. Only two cons: - Spool holder, but you can print some other available on the net. - Noisy Y-axis.
The Prusa i3 MK2 was the best choose for money at its release date. It was fun to build it (easy readable and good building instruction). After building it was easy to set up and start the first prints. After some experients you get very good quality prints. I can highly recommend this printer...
Prints better then 2000$ competitors
It's a good printer to start off with no enclosure and low-end ramps controller require different parts to utilize WiFi and it's not 32bit. It's kind of stuck in the past.
The Original Prusa i3 Mk2 is a top-notch i3-style 3D printer. It is very reliable and has excellent build quality and large build volume. It can also print almost any material with no modifications whatsoever. Customer and community support are also excellent. My only complaint is the non-removable PEI-sheet-overlaid heated bed, which makes it a bit hard to print using PETG and PC.
It's too bad the MK3 is out already with no full upgrade from mk2 available. Website said fully upgradable to future designs.
the linear bearings are not very precise and the frame is a bit to flexible.
The threaded rods where a mind bogglingly bad design decision though. Available mods show how it should be done. The loading and unloading procedure is stupid. The non-removable build plate is a pain. But it still is one of the best printers out there.
Very good, sadly the customer support has gone from 5/5 to 4/5. I could not have made a better choice for my first 3D-printer.
Best Quality and good precision
The printer works fine, just use software other than the original software, such as Simplify 3D.
Perfect printer, i have plans to buy another one next year.
The Prusa I3 MK2 will provide quality prints, but it is not a plug and play printer. The bed leveling requires adjustment about half the time. The support options are not reliable and the included material profiles need tweaking for every material but PLA so far. The support is abysmal. An electrical system failure burned a wire. Prusa took over a week to provide a final answer, which was "We already know about that problem." Thankfully I was able to repair it myself. The lack of enclosure limits the reliability, causing warping on several common materials. The cable management comes apart over time, requiring constant checking and will drag on your prints if you forget. There is no adaptation for flexible filaments. The extruder requires adjustment for every new material. My kit took two days to assemble and a month of tweaking, with little help from support, to solve a misalignment issue.
It's a fantastic machine !
Just WORKS. Reliable work horse. Fantastic print settings that don't need tweaking, out of the box. Hands down best printer I've ever used. The print quality is fantastic. Very, very good value for money. Look no further.
reliable, fast, quality, entertaining
I love my MK2, it's definitely the best printer I have had. I can't wait to get an MK3, i'll be ordering it as soon as i can afford it.
It's the best for the money
I build this printer myself and upgraded 2x now. Still the best.
The only thing I don't really like is the frame. The construction and design of the frame hinder the build and calibration process. That's been fixed with the aluminum extruded frame of the MK3. The user has to do a lot of work to get the frame square. Once it's square though it's print quality is tops.
I bought the Prusa i3 MK2 kit version with a pre-order of the Multi material kit. The printer works like a charm if build right. I would advise the kit version as you are better able to fix it if something is going wrong and you are not afraid to open up parts of the printer. Support from the Prusa community is exquisit and the software is all open source and free. It always took me 2-3 tries to get it right with my last printer. With this one it is right every time, instantly. The only time stuff goes wrong is when the print snaps off the bed or the printer is not calibrated right. These are both human errors and not the printers fault.
The Prusa i3 MK2 is easy to pickup and start 3D Printing and can tackle almost any project I throw at it. Whether it's in complexity of detail, supports, or material options - it can handle it. If not, I didn't do it right.
Nothing to say. It's a great printer for everyone.
Shipping cost from Prusa Research is quite expensive and spare parts are not on their web site, you need to chat with their customer support to purchase them.
It's a really sensible machine. Everything is there for a reason, everything works, it's reliable and produces excellent results.
A good 3Dprinter for persons who have experiences with cnc machines
For me the best 3D printer. Super satisfied. I will buy more.
Excellent printer for the price. Not the best for transporting around and can be a little bit unreliable if you don't know what your doing. If set up correctly, it works like a dream.
It's a well engineered printer that gives me far less headaches than the Ultimaker 2+ we have at work.
A robust and efficient printer
It is a great printer. It would be great if Prusa team makes a bigger build volume on same platform
The best printer i have so far, will compare with CR-10 soon
I've had this machine for just over a year now, and it's been working like a charm! It's an amazing machine, though I think it will quickly be redundant with the release of the Prusa i3 MK3.
Great printer with large build area. Fantastic hardware making it reliable with every and mechanically accurate.