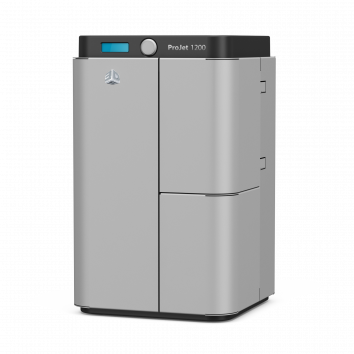 3D System's desktop micro-SLA resin printer. Made for professionals, this compact printer can create small, precise, detail-rich prototype parts and casting patterns for jewelry designs, figurines, and parts. It has a maximum print in the size of 4.29 x 14.99 x 2.69 cm and it prints 30 micron layers in ultra high resolution.
100% recommended
Owner Reviews
A Small Micro Compatible machine that helps me to Output the Print in High Quality with Accuracy that Satisfies the Client/Customer-ARABIN's HUB
It prints beautifully, consistently and reliably. Biggest downside for the printer is the build volume and the price to run the machine. Biggest downside from the proprietary software is that I can't rely on the automation for support generation and/or parts orientation. Because of these, there's a learning curve by trial and error to get parts printed properly. Need to learn the balance between the minimum number of support to achieve the best print surface VS printability (too few support and you could potentially ruin the print and in the worst case, have to waste a resin cartridge).
Great printer for small parts. Easy to use. There's a learning curve with the various materials you can use.