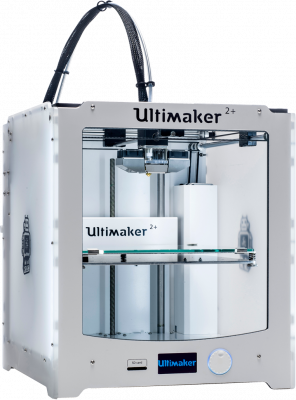 The Ultimaker 2+ is the updated version of the popular multifunctional 3D printer. It comes equipped with a heated build platform and can print at a resolution of up to 20 microns. It supports both PLA and ABS and can print at a speed of 300 mm/s.
Available from these sellers
100% recommended
Owner Reviews
I love this machine and intent to buy a second
It's a cool printer with good quality and is very easy to use for inexperienced makers and hobbyists.
The whole machine is super reliable, especially with the geared feeder. The UM2+ has a very high print quality for a FDM printer and a great precision. It prints right about every material available with a low failure rate. A bigger build platform and a dedicated dual nozzle for support material would make this a semi-professional printer. Reliability is most important for me, and I never regretted my choice to buy the UM2+, heck I even bought a second one for more capacity!
the perfect one. Easy to use, lot of possibilities.
It's a nice looking and reliable printer. For non-professional use, cost might still be an issue but without knowing full market, it might be worth the price. I definitely do not regret buying it.
it's build for business as well as for beginners that want to just plug and play.
The best is very good. I hardly got any issues with it. Just that the plug and on/off button is at back. I have to move my printer to switch it on and off. So is the case with the filament
Great machine wish i had it sooner
Overall good printer mainly reliability, quality and precision
It's a great reliable machine. It almost eats all materials and the nozzle change is just the best! Has a few downsides. Not a great user experience (interface, software) and the quality could be much improved with some simple adjustment in the design (such as a little wobbly z axis)
I have been positively overwhelmed at the ease of use and maintenance for the machine. The Ultimaker App allows you to access an easy guide on how to keep your machine in the best shape it can be.
I love this machine, I have been using Ultimakers for 3 years now and it will take a lot for me to switch to a different FDM machine
In a nutshell, a great printer for all kinds of users, from beginners to 3D professionals.
An excellent 3D printer with a very good value to money ratio in terms of its high quality and speed combined with low noise levels when printing. With moderate experience and not afraid to maintain your printer you can get near zero print failure jobs.
The Ultimaker is by far the best in its price range
An amazing machine, that just works every time. It's a more expensive machine however, but you get what you pay for. It's pre-built, so you don't get the fun/understanding that comes with building your own machine
Very reliable machine that doesn't need maintenance all the time, great quality prints
Easy to use, no hassle setting it up. Set up the bed-height and plug and play! Really satisfied with this machine.
Superior build quality, precision engineering and a great support team, not to mention huge community are only some of the things that make the Ultimaker series of printers amazing! With community feedback taken seriously, the upgrade from Ultimaker 2 to 2+ basically fixed every known issue with the range so far, and with the upgrade also available as a kit for UM2 owners, this is simply perfection in customer service.
Great printer, out of the box always ready
Great device in every direction. Highly recommended.
Very, very good printer. High quality.
I really like the reliability and performance of the Ultimaker 2+ i bought it for the fine layer height and resolution and i feel it has achieved my expectations for a sub 2k printer.
I think the Um2+ is worth the price over the go for entry level users. Build volume is the main concern and the go is a bit to small for the price compared to the UM2+, which has a good amount of build volume to grow into. Print quality for parts is excellent. Get straight into your projects instead of upgrading/tuning your printer.
best desktop machine on the market
Nice looking, well designed printer. One thing I miss REALLY: automatic build platform compensation.
The Ultimaker 2+ is a great machine, very reliable and excellent print quality
Easy to use. Ultimaker uses the open source Cura slicer engine - quite good with settings. A drawback: printing directly out of Cura doesn't allow to stop/pause the print/change of printer settings. We had some issues with adhesion fixed using blue tape. We would recomment the ultimaker 2+
I think it's the best Filament printer out there since a lot of printers have a cheap build quality while this is the real deal... I mean... the first UM was wood and bad. But now its feels its build for serious rough environments. But sadly some parts are overly expensive which is not cool since the products are 50% cheaper on the same suppliers without a UM name on it (yes same suppliers) not china. Anyways great printer! will buy more of them when I got the money!
It is a great printer for creating complex parts, not for plug n play.
nice machine to do want you want
Ultimaker 2+ have a very good performance for prototypes. always have new material to play and the community have something new every day
Best build quality i have seen on 3d printers!
The Ultimaker 2 was a real let down for us, but the 2+ upgrade turned it into the machine it should have been all along. A better extruder system completely changed our outlook on this printer, and Ultimaker as a company. Now we would actually consider buying an Ultimaker 3.
It's a fantastic machine and runs smoothly out of the box. It's open to experiment with different matirials and slicing softwares. Compact and easy if need to move it around. And let's say, the design is minimalist and very cool! I run a small hub on 3dhubs.com and regardless the high purchase price I was looking for something reliable and user frindly, and I found it in The Ultimaker 2+ .
Awesome stable and quality build 3D-printer. You have to maintain it like all equipment, but when you do you can enjoy 10000+ hours of quality printing time.
Best FDM printer since 2014
This is a reliable machine that has never broken down after several months of regular use. Nozzle changing is easy, though I wish 2 were default. Heated bed leveling is straightforward and print dimensions are very accurate for FDM.
It is a perfect 3d printer. Value for money and its quality
It's a very great printer to start with as it's easy to use ,great quality and design; however it could be better if it has a dual extrude and a larger volume size
Great and reliable printer that saves time
I love my Ultimaker 2+! I got over 2500 print hours on it, before I needed to replace a single part, and even those replacements have been inexpensive and easy refits. This is a true workhorse and a thing of beauty that I am very proud to own.
The Ultimaker 2+ is a highly reliable 3d-printer producing prints with great consistent quality. I have two printers that has been running more or less 24x7 for 1,5 years and I have had no issue what so ever.
The UM2+ is a great printer. It performs without fail on pretty much every material I've put through it. Extremely easy to just "press print" and walk away.
Most reliable 3D printer. Just hit the button and go away. Quality and ease of nozzle change are the greatest PROs.
I was somehow hesitant buying the UM2+ as my first printer (not having any experience with it and taking into account the steep price) but I haven't regret that decision a single time. It was easy enough for me to get started and while you gain experience and become more demanding, it just keeps delivering on that.
The same as the Ultimaker 2 but with a perfect hot end and feeder
Great printer for its value- bit expensive for begginers.
Great machine, now i know what i missed after years experience with tape, hair spray, wood glue, ....... get a heated bed.