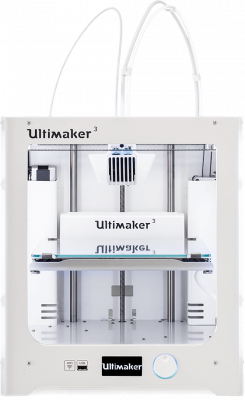 The Ultimaker 3 is the latest version of the popular multi-functional 3D printer. It comes equipped with a heated build platform, dual extrusion and can print at a resolution of up to 20 microns. It supports both PLA and ABS and can print at a speed of 300 mm/s. Also new in the Ultimaker 3 is auto bed levelling and wifi connectivity as well as an on board camera that allows users to watch their print live.
Available from these sellers
100% recommended
Owner Reviews
Good printer but the wifi connectivity is not very reliable
As compared to the UM Original it is a very reliable machine with almost guaranteed print quality if you configure it correctly for the object you want to print. However, I find that you need more and more expertise to get that right as there are constantly more parameters you have to control. The running cost is high. The print cores now come as complete modules for which you can't buy replacement parts anymore. Of the nozzle gets stuck, you have to buy a complete new core (about 100 euro). And while UM doesn't recommend to take the core apart to e.g. clean the nozzle (various techniques for that) you can still do it without damaging the core. So, you're a bit left in the dark there. But overall, I'm happy with the printer.
If the accurate and repeatable printing are important factors, Ultimaker 3 is the best selection. Of course using the dual extruder gives us advantage. The PLA/PVA combination is great and save time for us in finishing process. There is no compromise and limitation in printing. We are able to serve unique orders in our 3D printing service.
A very stable print platform, works out of the box, faillure rate of 1 on 100 prints or less, can be operated with click and print but allows tinkering and tweaking with settings too. High consistent print quality with lots of different materials.
Great dual extrusion printer for professional use!
It brings some typical dual extruder issues with it but compared to alternatives it is very reliable and has a high print quality. I would say best buy for money.
Great machine with most advanced features. Highest uptime due to extruder modules.
The Ultimaker 3 is a great printer for dual extrusion
Awesome machine that hardly ever fails. If it does it's Most likly due to human failure. It's very Easy for dummies but for experts it can be anyoing to go thrue All maintenance procedures instead of skipping some unneccesary Steps to save Time. (Expert mode is on my wishlist )
Great printer. You get what you paid for.
It's solid machine and every printer should be like that
Great addition to the UM2. A bit slow to boot.
A good 3D-printer that maybe has gone a bit too far in automating tasks. For example does the auto bed leveling not work as good as setting the bed level manually. It holds the bed level for maybe 3 longer prints.